The Finals Eligibility functionality will give association admins the ability to set the minimum number of regular season games a player will need to play in order to be selected in a team that plays finals.
If a player has not meet the eligibility criteria, they will be disabled from the line up selection in a finals fixture.
Finals can be set up for both new and existing competitions, and be configured at the competition and grade level.
Setting up Finals Eligibility for a Competition
For new competitions you will see a Finals Eligibility toggle on the "Grade default settings screen" when creating a competition.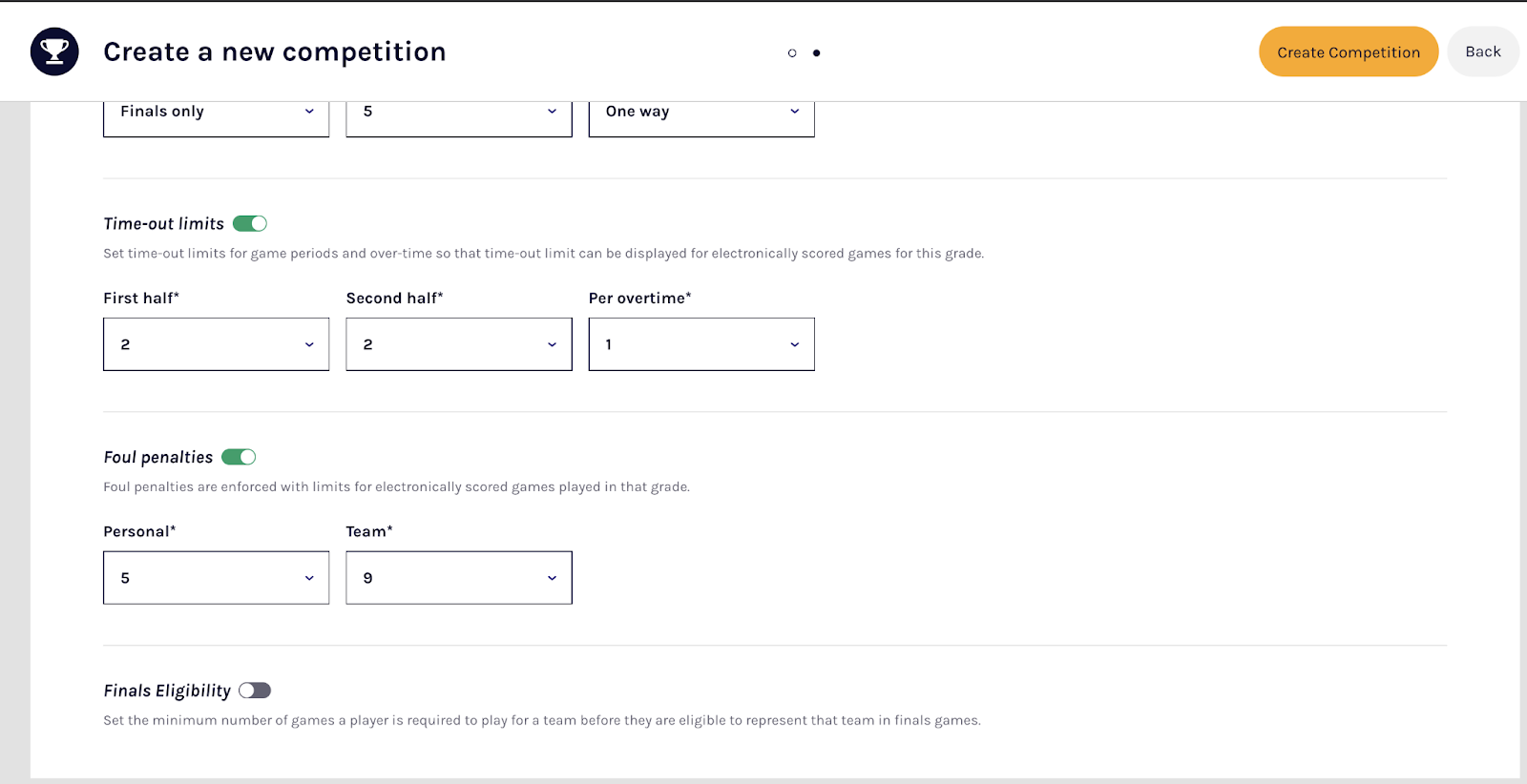 Once the toggle is turned on, a numerical field will be displayed. Admins can then enter the minimum number of games a participant will need to have played in a team.

Once the desired number has been entered, create the competition and this value will save.
Setting up Finals Eligibility for a Grade
The finals eligibility can be set in two ways.
Inherit from Competition: If a competition has a final eligibility value, every new grade created in that competition will inherit that finals eligibility value, however you will be able to edit this value or turn off finals eligibility completely at a grade level if required.
Set a Grade: If you choose not to set up finals eligibility competition level , but you want specific grades to have eligibility criteria , you will be able to configure this on the grade setup page , but switching the toggle on and entering a value.

Viewing Finals Eligibility of Team in Grade
Once you turn on Finals Eligibility for a competition or grade you will be able to view the finals eligibility criteria and the number of games a player has played for a particular team via the team allocation page in the competition view.
The team must be allocated to a grade in order for this information to be displayed.

Team Selection based on Eligibility Criteria
If a player is has not met the finals eligibility criteria for the number of games played in a regular season, then the following actions will occur on the Game Day page and Electronic Score Application.
Note that finals eligibility will be calculated by grouping all game appearances made by a player, including games played under a season permit, game permit or as a club player.
Game Day
Selection icon to move players from out into the active line up will be disabled for player who did not meet the eligibility criteria , a tooltip message will also be displayed informing the admin that this player is unable to play to to finals criteria not being met.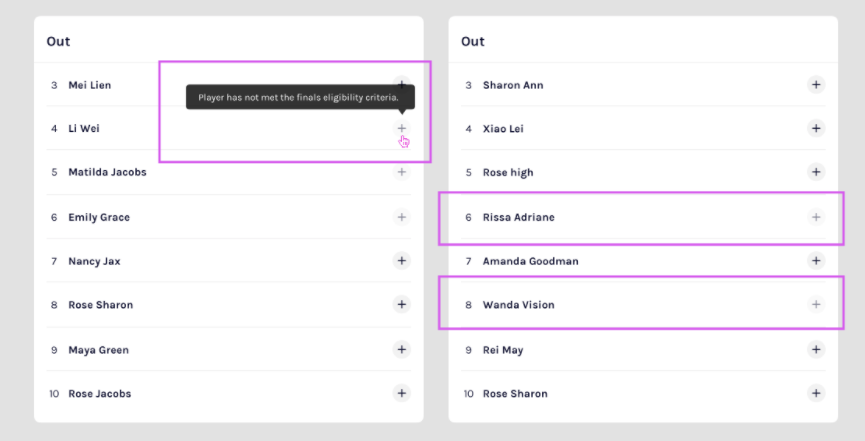 Electronic Scoring
Similar to Game Day, the selection icon will be disable and a tooltip message will appear.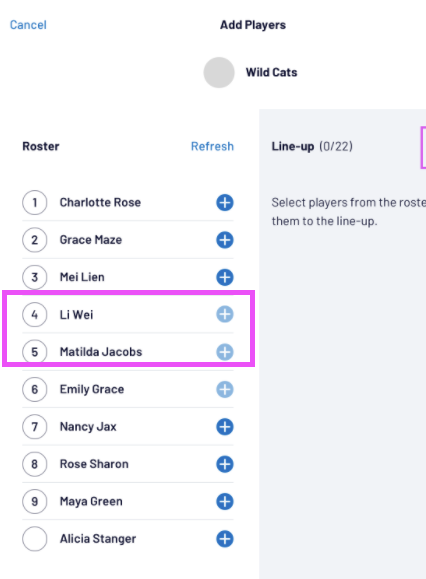 Finals Eligibility Override (Association Admins Only)
If a club needs a player that has not met the minimum of games played to be selected in a finals match, they can make a request to the association admin to override the finals eligibility status in order for the player to be selected.
Association admins can action this request by navigating to the relevant team allocation page and selecting the manage finals eligibility status button.
Note: This button can only be view in an association org, clubs will not have access.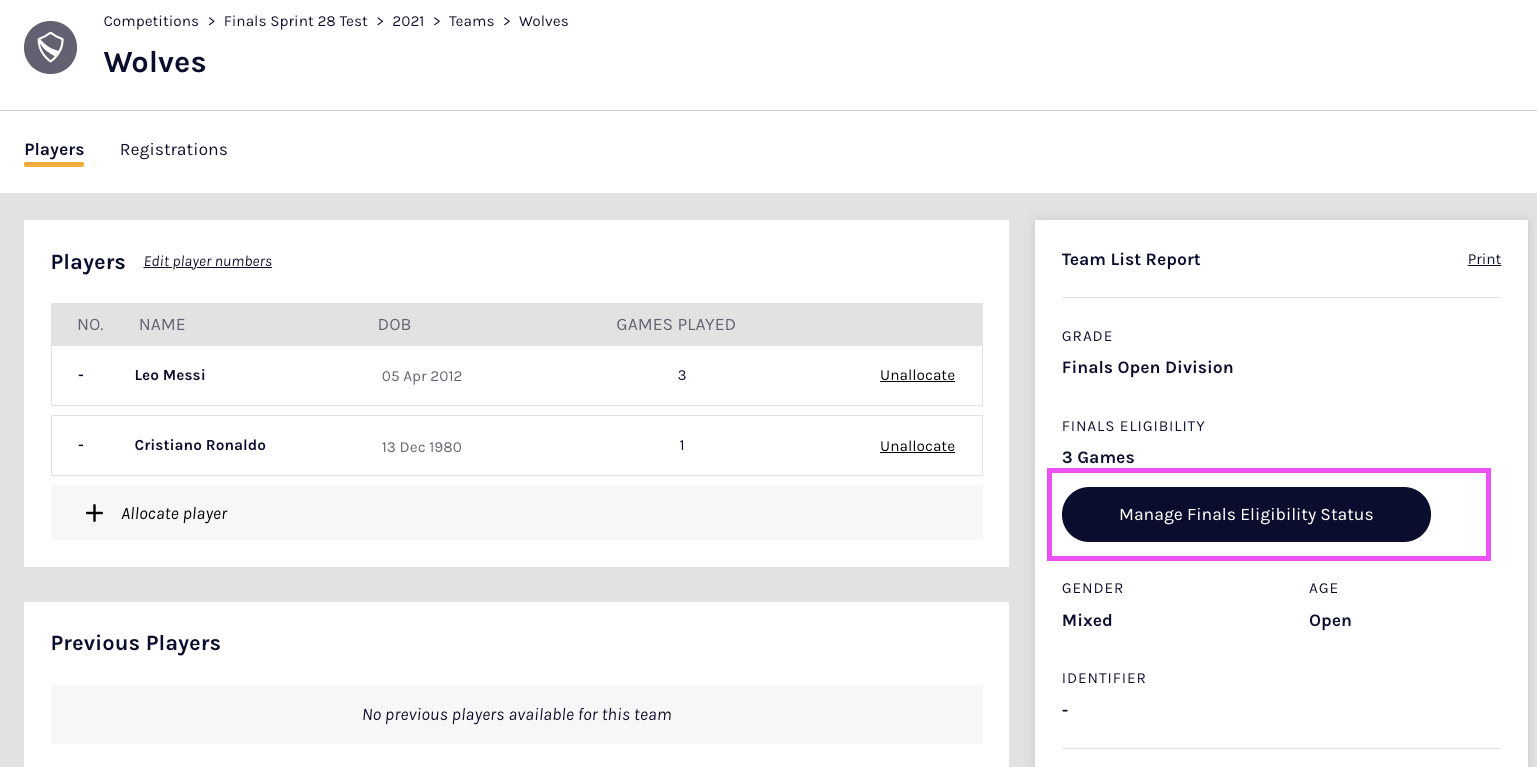 The admin will be navigated to the management page, where they can choose to override a player's status, to make them eligible or ineligible.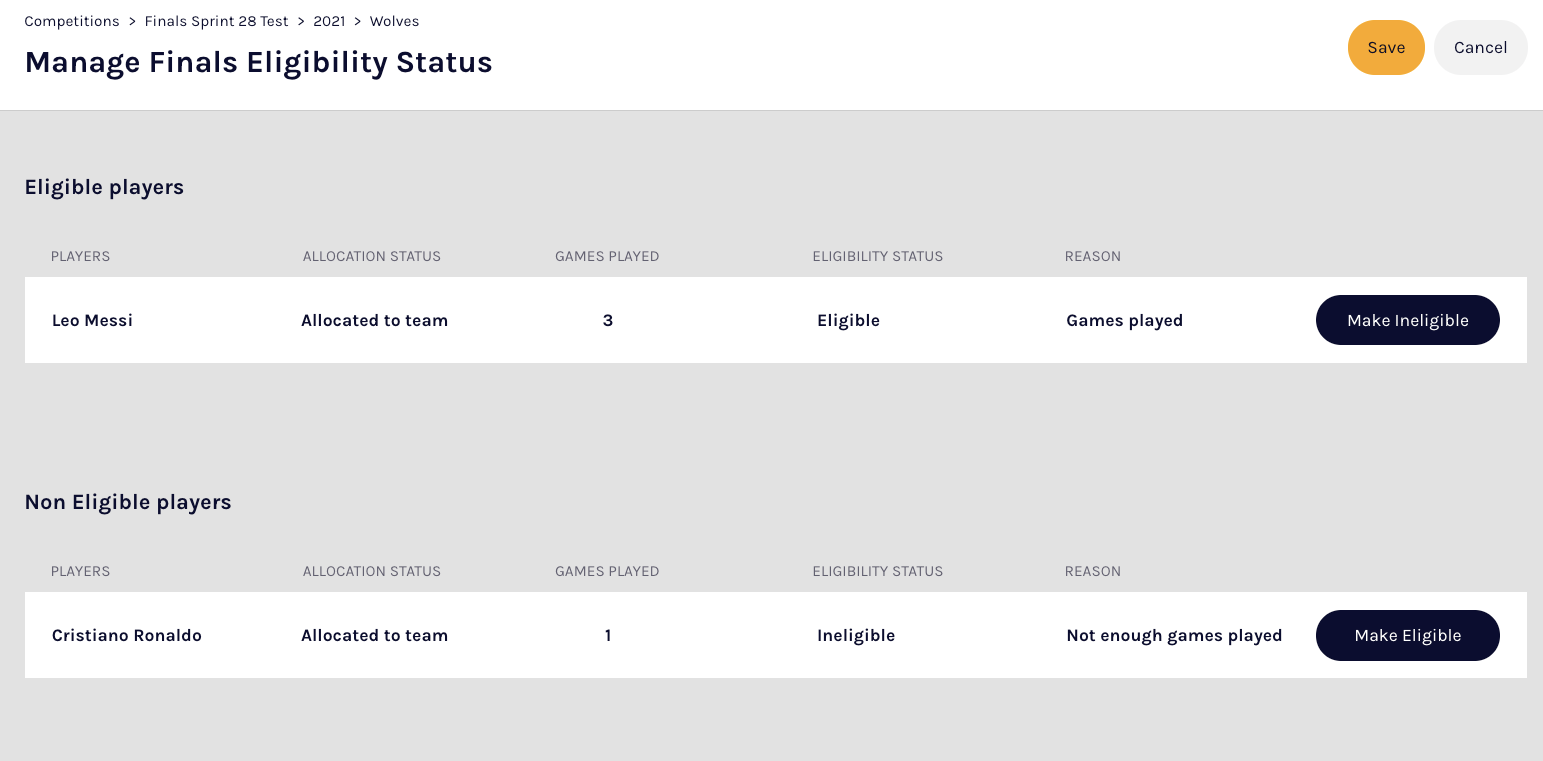 Reporting
The Games Played Report has been updated to include the finals eligibility criteria for a team, the number of games a player has played and whether they are eligible to play finals, to enable management of admins.