Period scores are the scores (ie. goals, behinds or points) that teams have scored in a period (ie. quarter or half). Period scores provide additional match information for participants and followers to see which team was leading during a game.
The Period Scores grade setting allows an administrator to:
Configure whether period scores are displayed on both the admin portal and the public website.

Set whether to display period scores as:

By period - total points scored per period; or

End of period - progressive game scores at the end of each period.

Automatically populate period scores if games were scored using electronic scoring and if period scores were enabled.

Enter period scores captured from a game which will automatically populate the end of period scores in the admin portal.

Enable period scores to be entered during overtime.
Note:
Period scores are linked to period type and overtime settings therefore any changes to these settings will impact what is displayed for period scores. If the period type is changed during a season from quarters to halves (or vice versa) after games have already been finalised then these games period scores will display as blank scores.

If overtime has been turned off then overtime scores will not display on the period scores even if a game has been finalised that had an overtime score.
Enabling period scores
Enabling period scores will display period scores on the following screens on the admin portal: game detail page; electronic scoring and on game centres on the public website. Period scores can be turned on at the competition or specific grade level.
Select the Competition Management main menu item, and then the appropriate Competition and Season tile, and then view the Grades tab.
Select the grade, then the Settings tab, and Game sub-tab.
In the Period scores section, toggle on the setting and set the Period score type that will apply to the grade.
Update & Save to apply any change.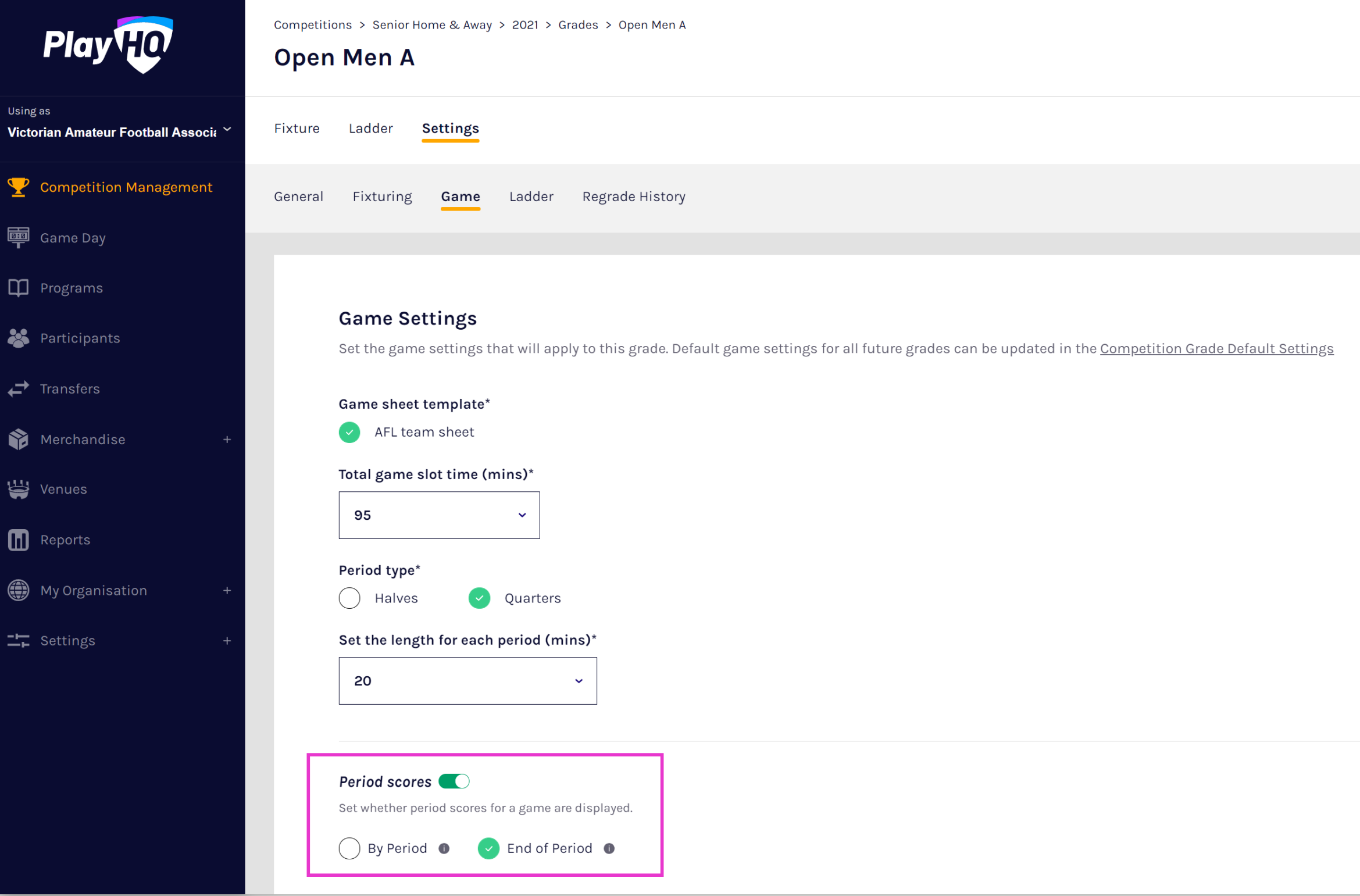 The period scores setting can be enabled or disabled at any time no matter what the game status ie. upcoming, in-progress, pending or finalised.
If period scores are enabled and an administrator changes the period type from quarters to halves (or vice versa) then an information box will appear, as shown below, indicating that finalised games will be impacted. If the period type is changed then the period scores will adopt the new period type but will be blank.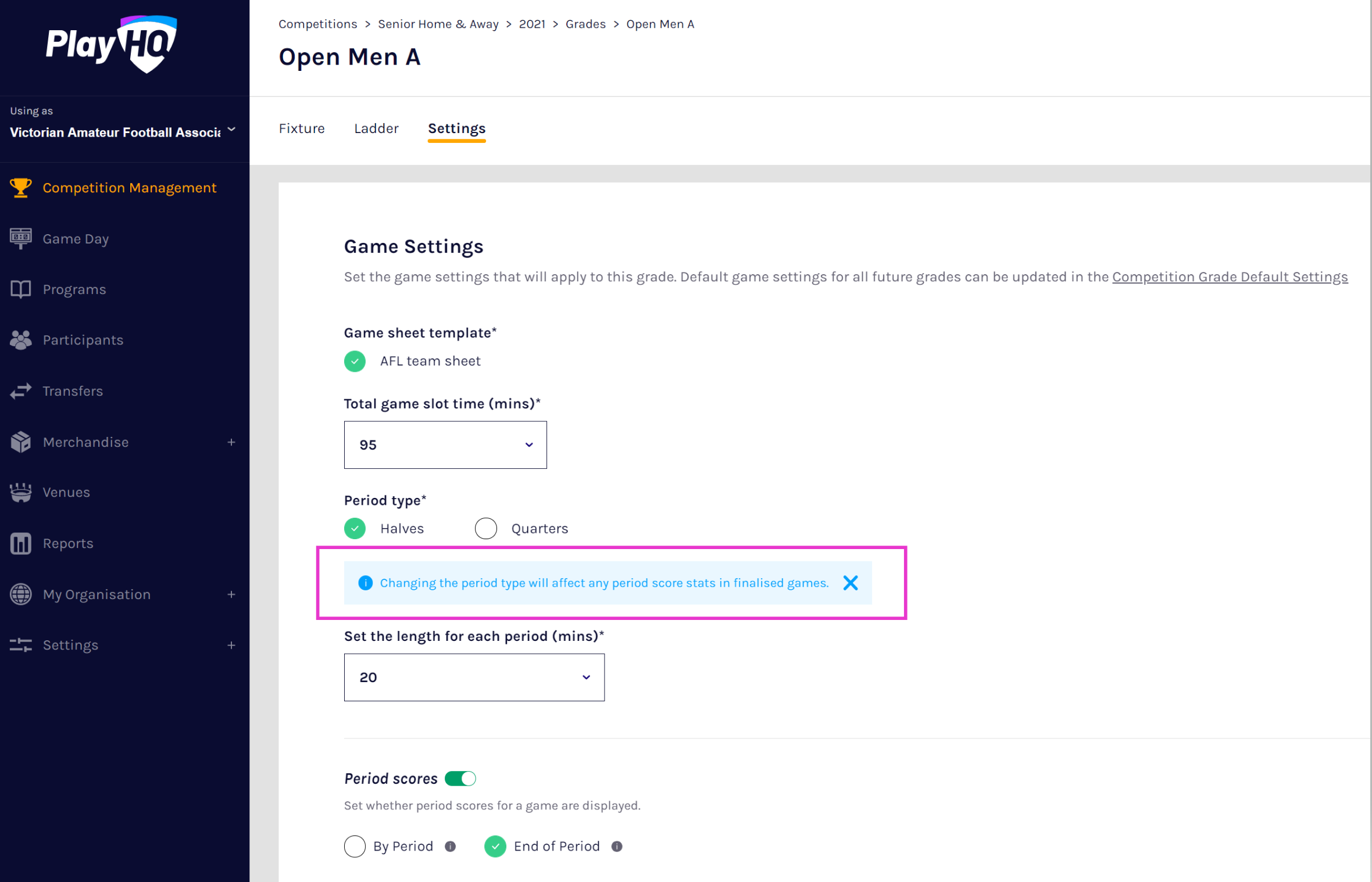 Period scores - Game Details
Enabling period scores will display the period scores on the game details page allowing administrators to enter the period scores manually for a game or populated via electronic scoring.

This example displays an administrator entering scores for the first and second quarter for the home team. The end of period progressive game scores are calculated automatically.

If the overtime grade setting is enabled then an Add Overtime button is available to utilise if the game is drawn at the end of regular time and additional periods are required.

Overtime is represented by a +1, +2, +3 etc. To correct an error, use the minus button to remove the last overtime row.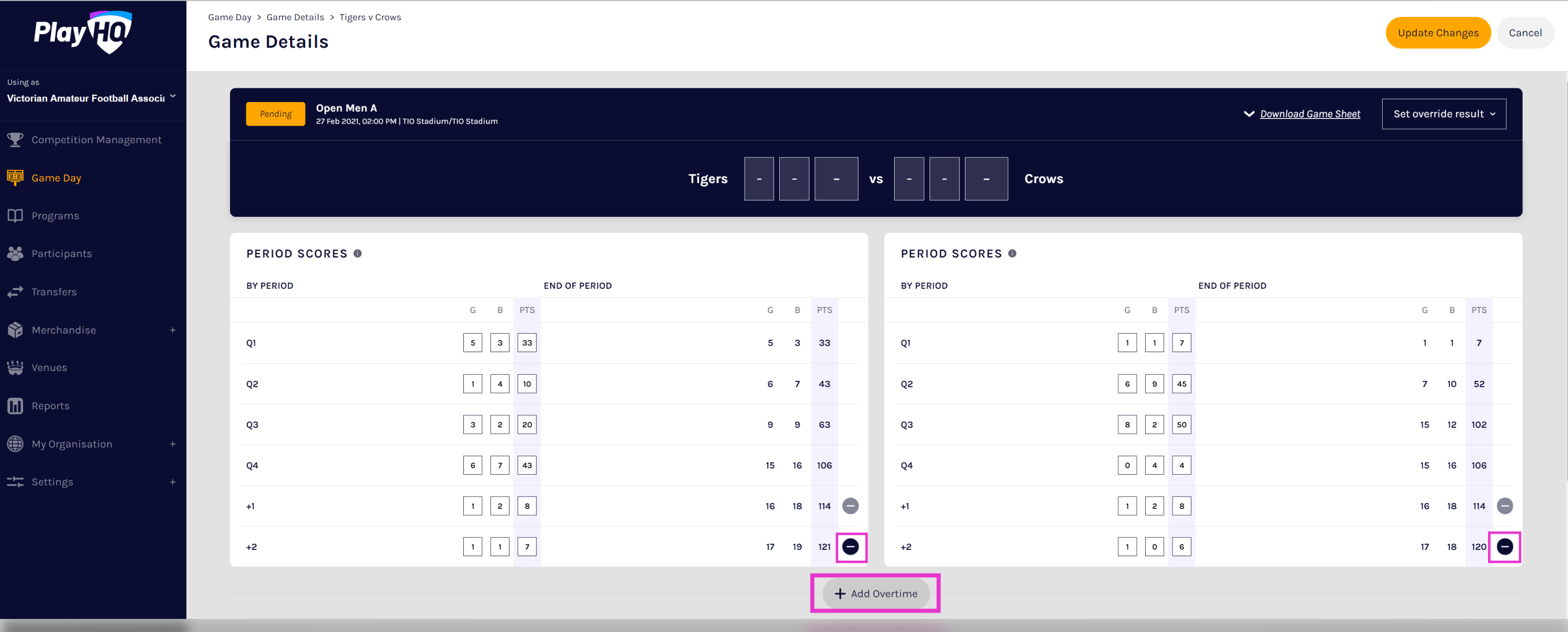 Ensure the period scores total matches the total game score (and the player stats total, if applicable) and select Update Changes.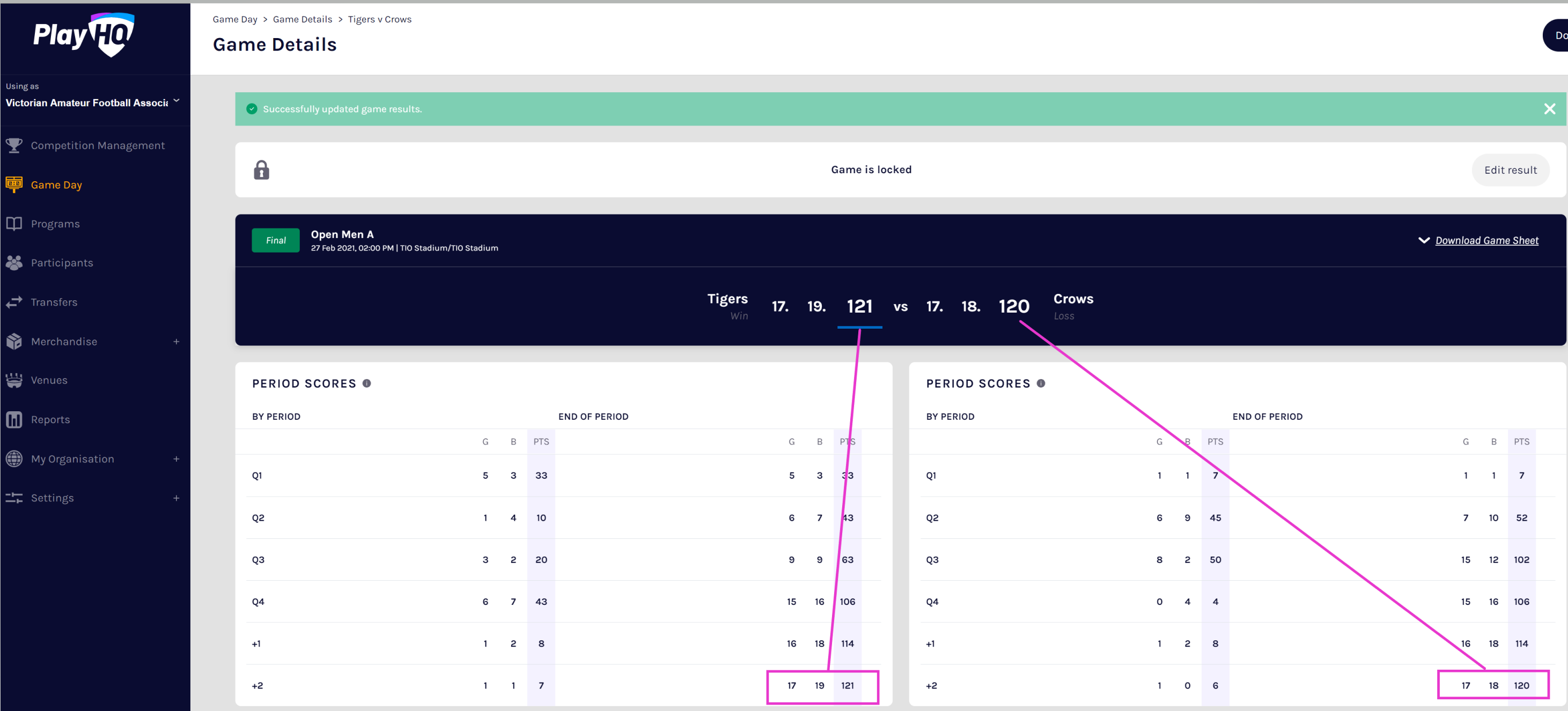 This example is a bye period and halves display.

Period scores - Game centre pages
Games scored with period scores entered will display on the game centre. This example is an end of period and quarters display with overtime.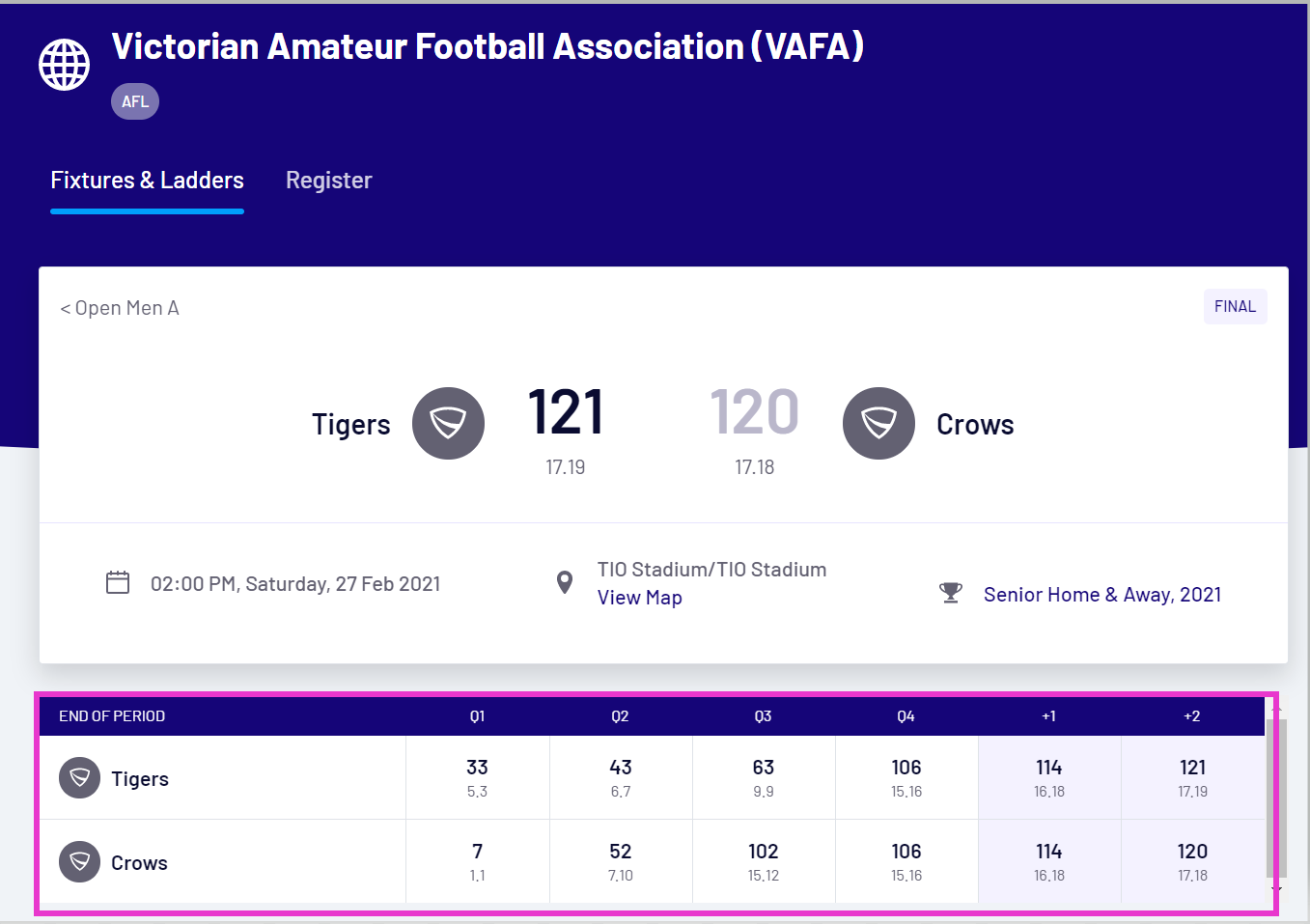 This example is a bye period and halves display.