PlayHQ allows organisations to integrate with Mailchimp. Organisations can then use Mailchimp to communicate with registered participants.
Tag Creation
PlayHQ creates Mailchimp Tags for every participant, and these synchronise with Mailchimp.
Tags are based on participant competitions and programs. So all participants registered to the same competition or program will have a common tag. Tags are only visible within Mailchimp itself.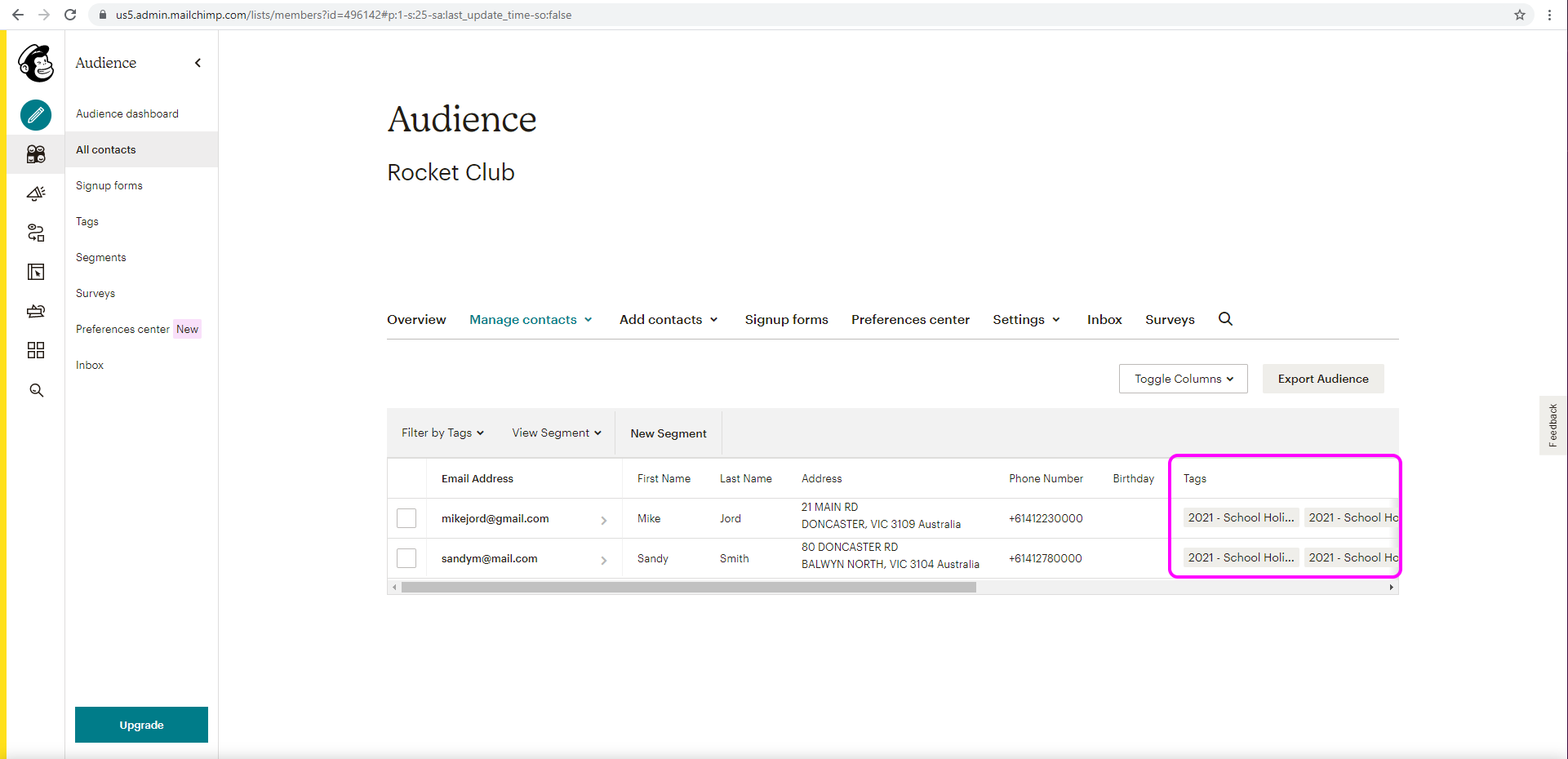 Note: If a PlayHQ account holder has multiple dependents they will have the combined tags for all of their dependents. The dependants are not synchronised.
Tag Format
The number of tags created and their format depend on the participant registration and the organisation type. Administrative bodies, Associations and Clubs synchronise different tag formats. See the table below for more information.
Registration Type
Tag Format
Example
Tag Synchronisation with Mailchimp

Club

Association

Admin Body (Self)

Admin Body (Child)

Competition

Season, association and competition

2020 - Melbourne Association - Senior Domestic

Yes

No

No

No

Season, association, competition and role

2020 - Melbourne Association - Senior Domestic - Player

Yes

No

No

No

Season and competition

2020 - Senior Domestic

No

Yes

Yes

No

Season, competition and role

2020 - Senior Domestic - Player

No

Yes

Yes

No

Season, competition and club

2020 - Senior Domestic - Blackburn Basketball Club

No

Yes

Yes

No

Local program

Season and local program

2020 - Holiday Program

Yes

Yes

Yes

No

Season, local program and role

2020 - Holiday Program - Player

Yes

Yes

Yes

No

Season, local program and group

2020 - Holiday Program - Morning Group

Yes

Yes

Yes

No

Shared program

Season and shared program

2020 - Auskick Community

Yes

Yes

No

Yes

Season, shared program and volunteer

2020 - Auskick Community - Volunteer

Yes

Yes

No

Yes

Season, shared program and group

2020 - Auskick Community - Sunday Afternoon

Yes

Yes

No

No