Mailchimp is an email marketing platform which PlayHQ has integrated with to enable administrators to easily communicate to all their participants that have registered via PlayHQ using Mailchimp.

Create a connection to Mailchimp
Overview
Creating a connection to Mailchimp is the first step in enabling PlayHQ to send data to Mailchimp. Organisations are required to authenticate this connection, and select the audience within Mailchimp that PlayHQ will send data to.
To connect a PlayHQ organisation to a Mailchimp account, navigate to the Integrations tab within the Settings - General area and select Connect.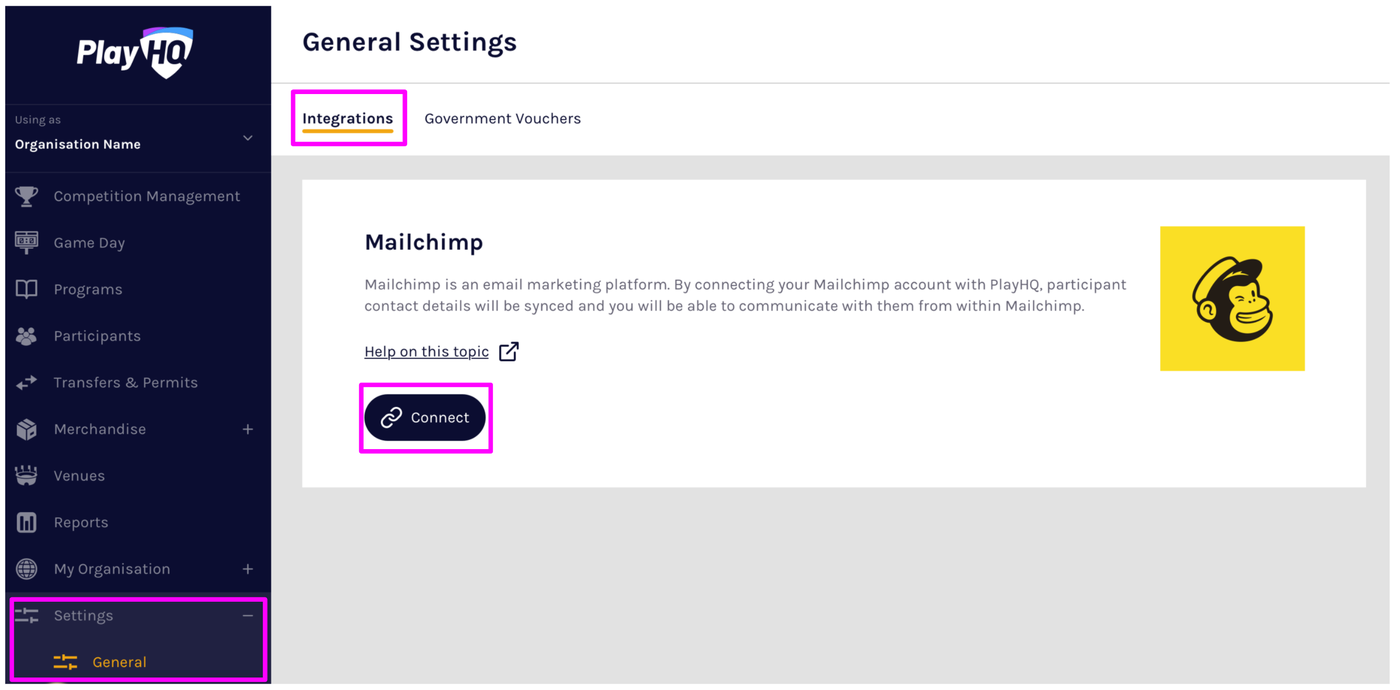 Then select Log-in to Mailchimp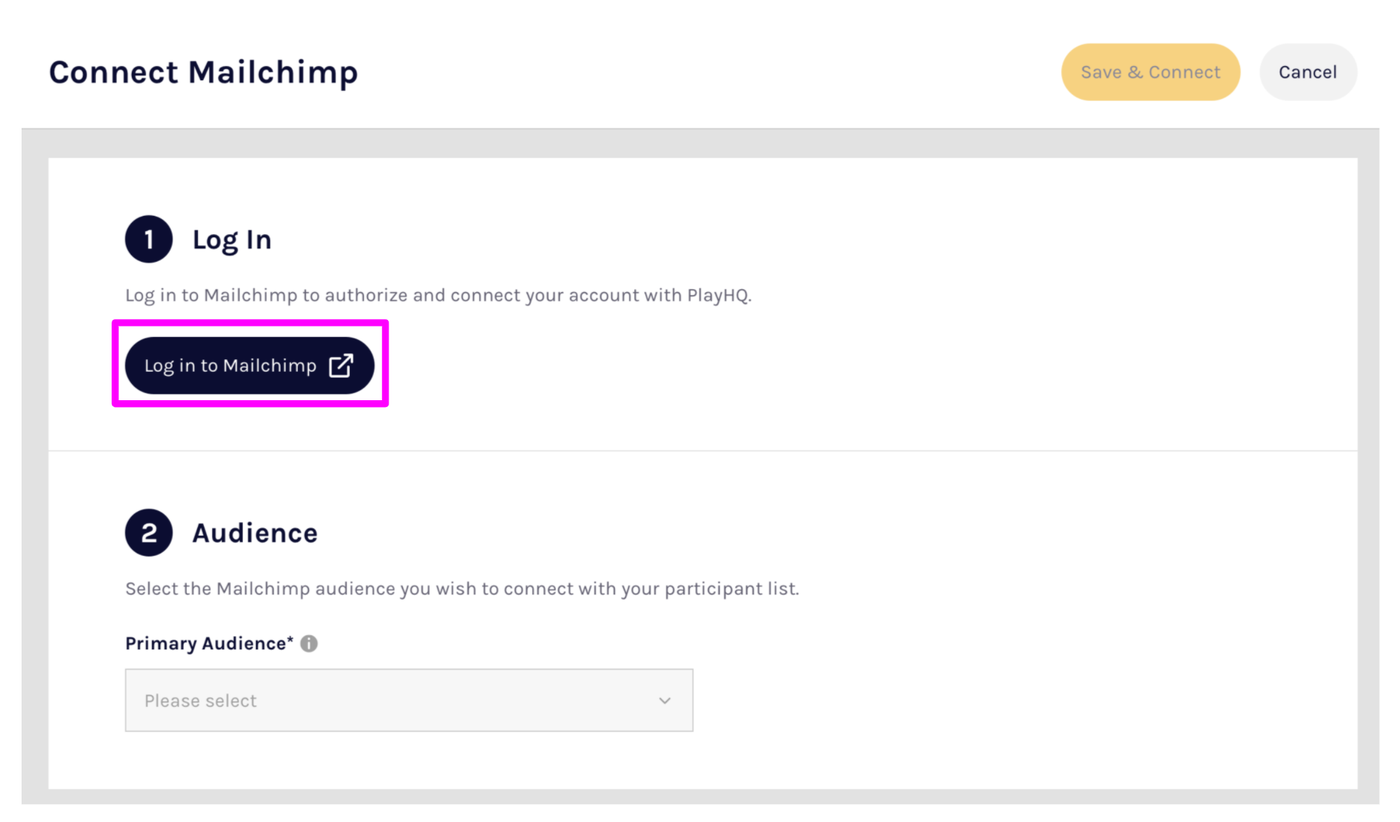 Enter the Username and Password of the Mailchimp you wish to connect to, then select Log-In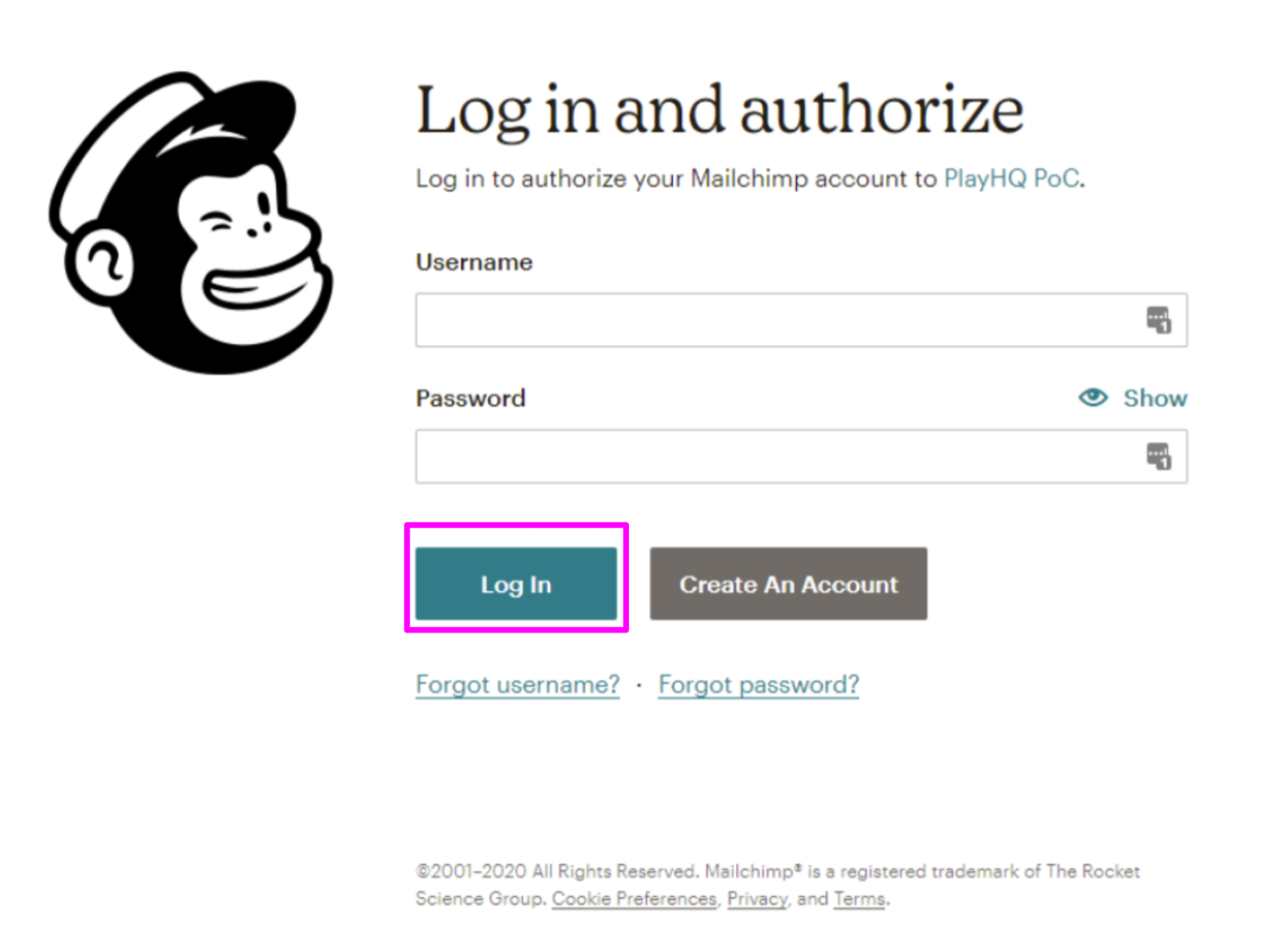 Select Allow to authorize PlayHQ to access the Mailchimp Account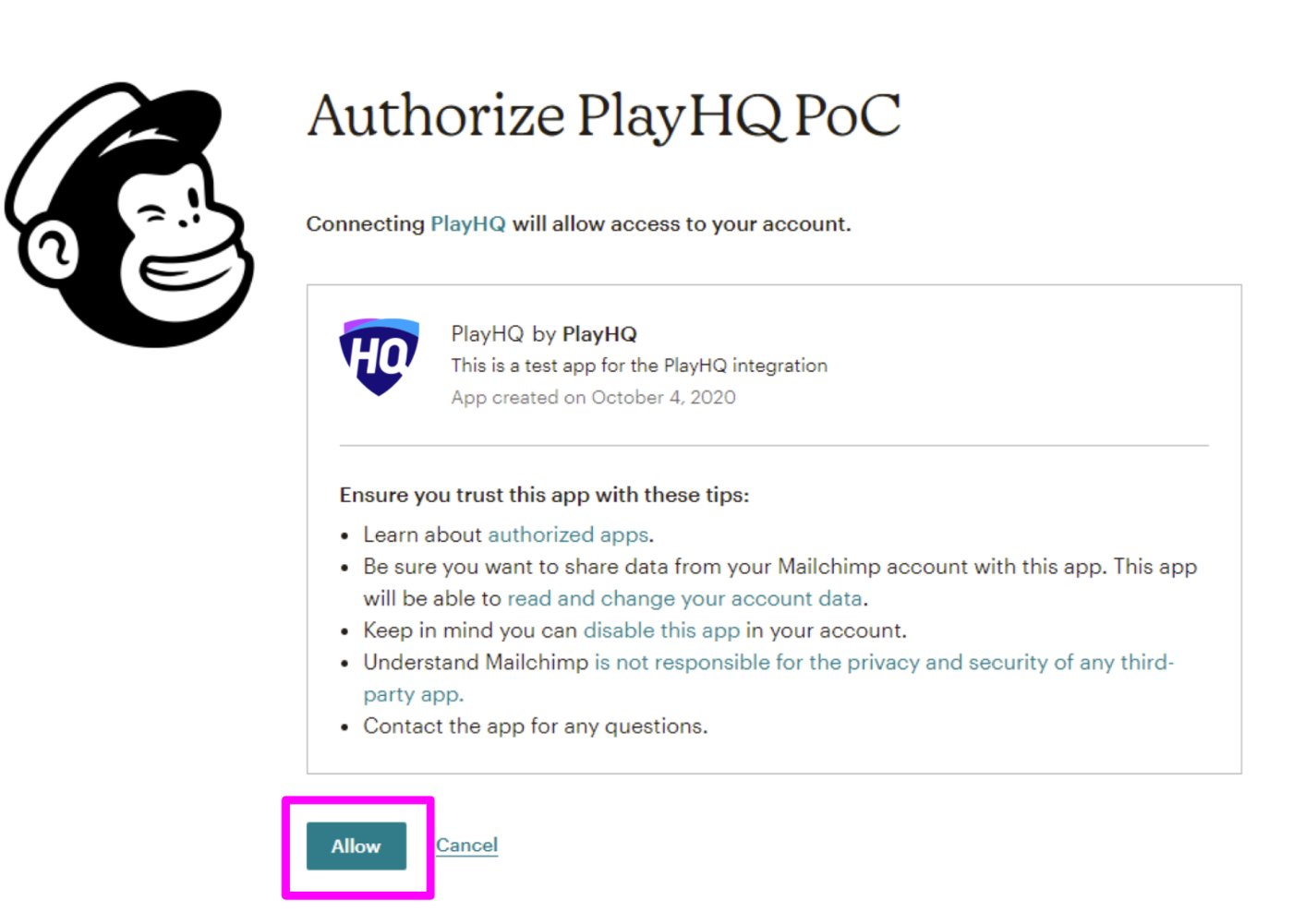 You are now successfully Logged-In, the next step is to select which Mailchimp audience you wish to integrate contacts with. Select the audience from the drop-down and select Save & Connect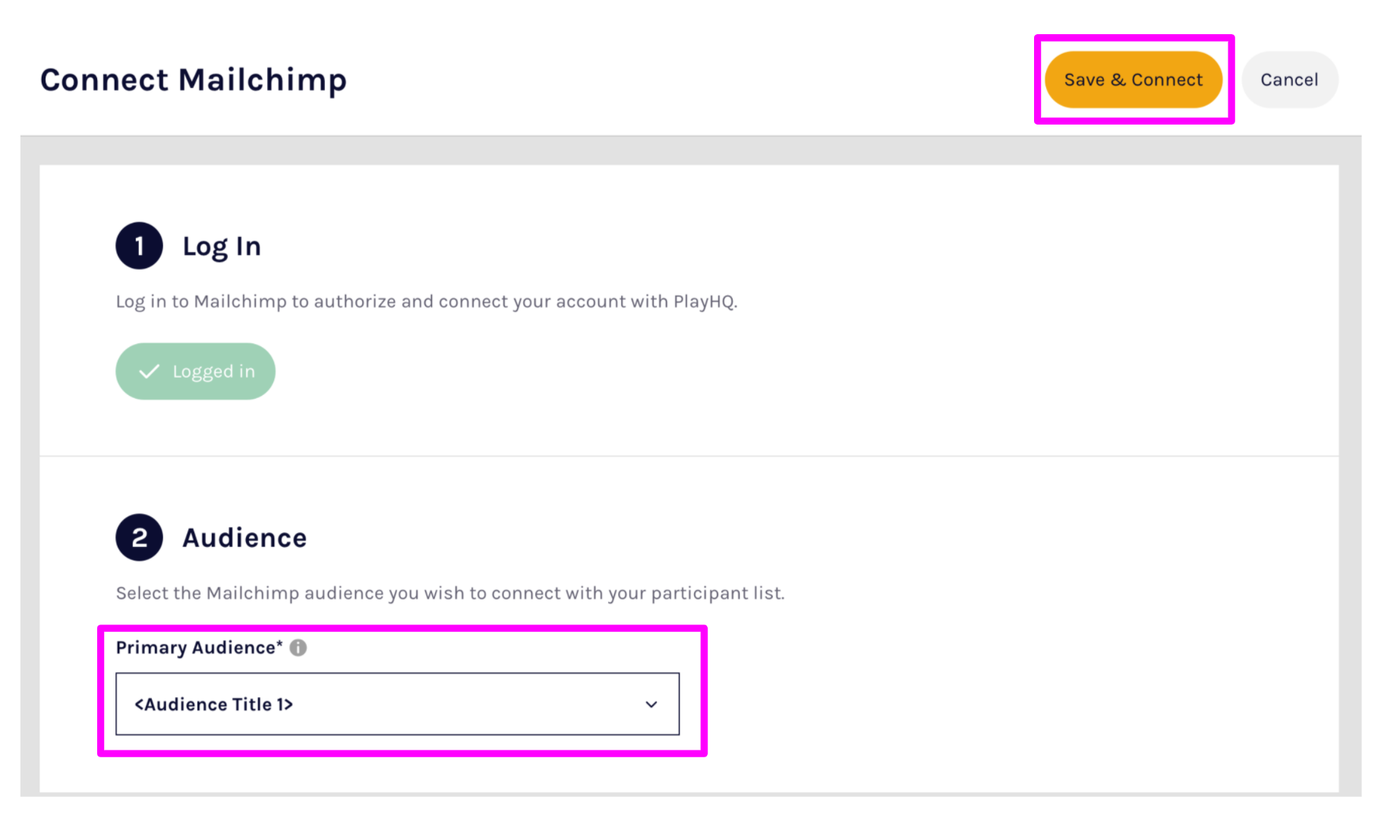 Once select Save & Connect, PlayHQ will immediately start Synchronising your contacts
Disconnecting from Mailchimp
Overview
This section provides information on how to disconnect a PlayHQ organisation from a Mailchimp account. There are two steps involved in this process, disconnecting within the PlayHQ Admin Portal, and disconnecting within Mailchimp
Pre-requisites
Create a connection to Mailchimp
Disconnecting within PlayHQ
To disconnect from Mailchimp, navigate to the Integrations tabs within General Settings and select Disconnect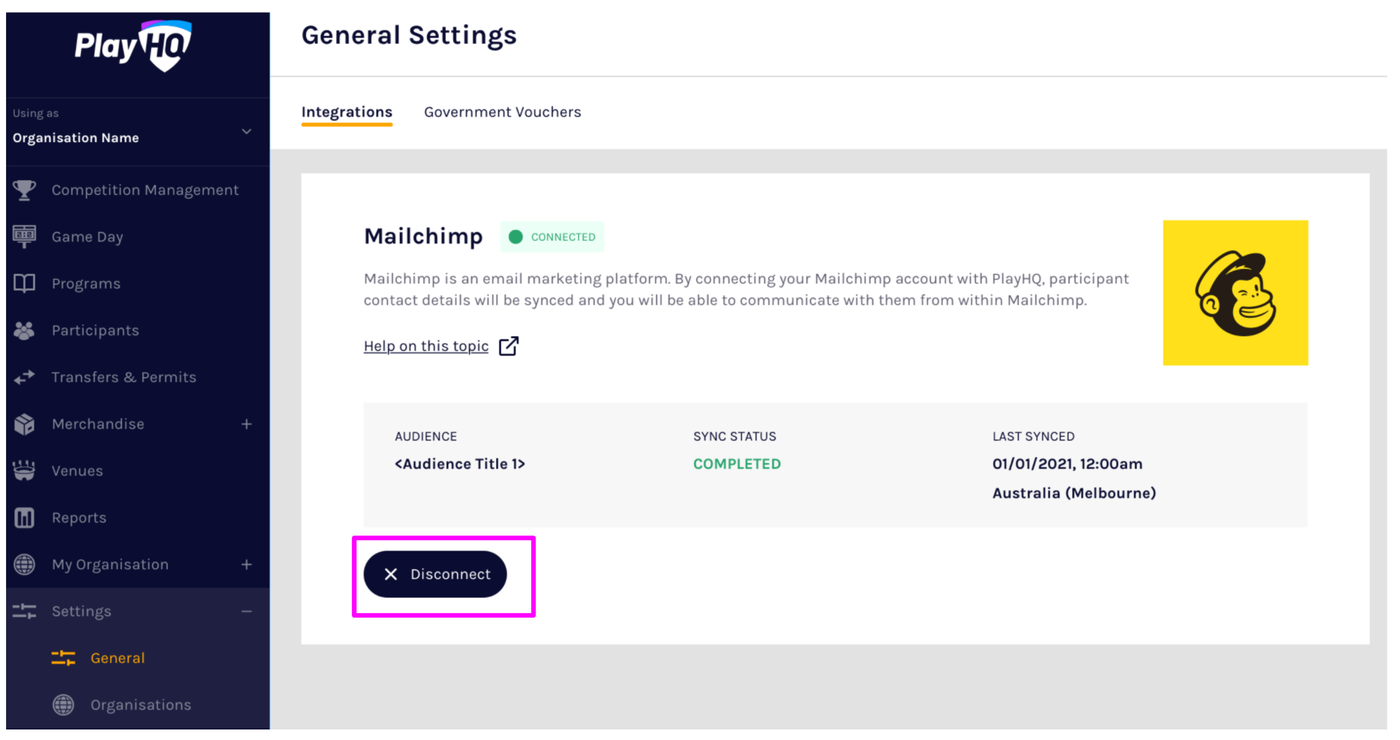 To confirm that you wish to sever the connection between your Mailchimp account and PlayHQ, select Disconnect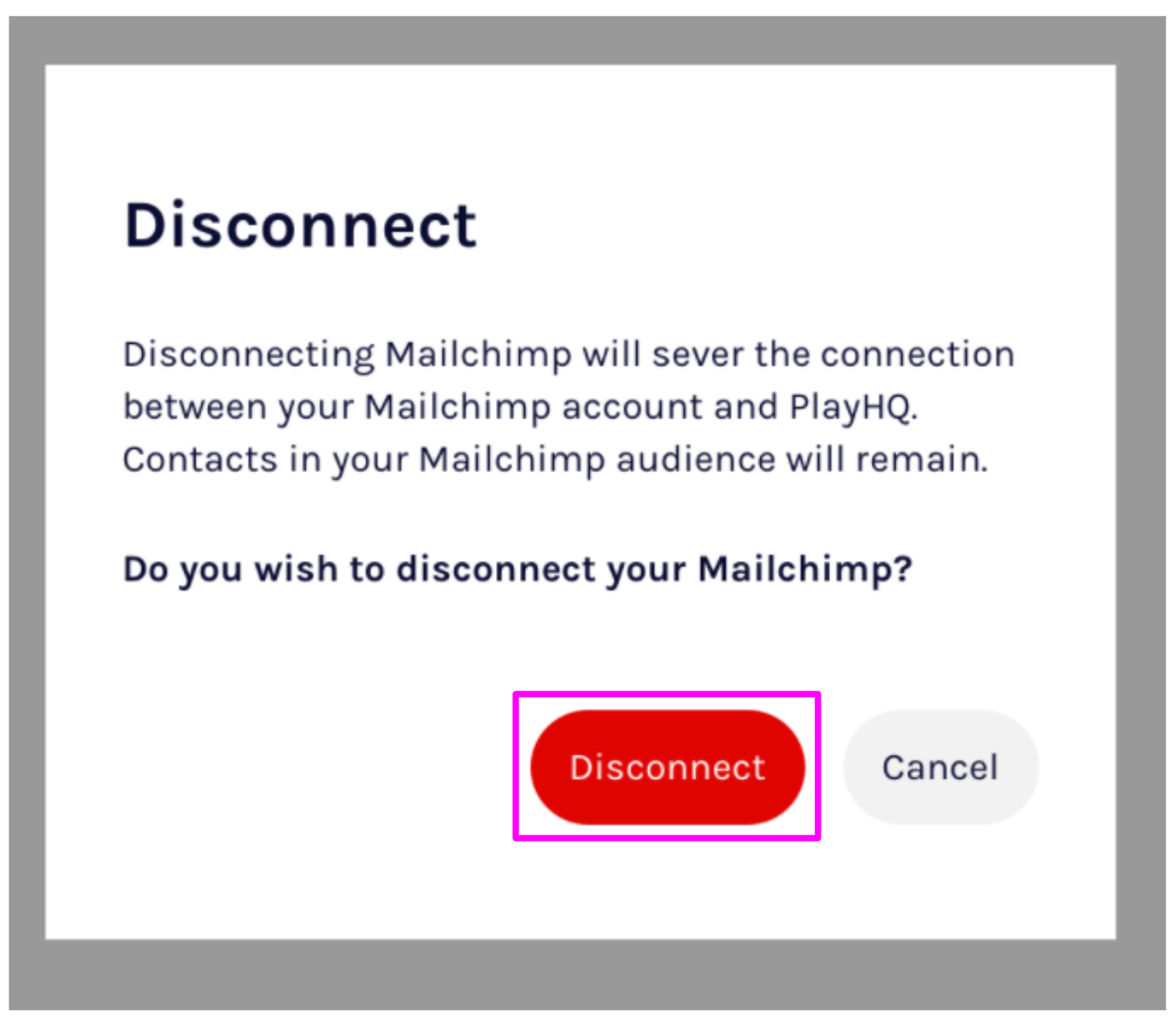 If you ever wish to re-connect back to Mailchimp, you must also follow the second disconnection step, by disconnecting within Mailchimp
Disconnecting within Mailchimp
In addition to the above, you must also follow these steps to remove the application within Mailchimp: https://mailchimp.com/help/remove-an-application-from-your-account/.
Synchronising your contacts
Overview
This section provides information on how PlayHQ contacts are synchronised with your organisation's Mailchimp audience.
Pre-requisites
Created a connection to Mailchimp
Synchronisation
Once a connection is created to Mailchimp, PlayHQ will immediately start synchronising your organisation's contacts. The following rules will be applied:
Only the primary account holder details of participants are synced to Mailchimp; individual participants or additional parent/guardian contact details are not synchronised.

The following details are synchronised for each contact along with the tags: Email, Date First Registered, First Name, Last Name, Mobile, Address, Suburb, State, Postcode, Country.

If the contact does not exist in Mailchimp already, PlayHQ will create one in Mailchimp. If it does exist, the contact's details are updated in Mailchimp.
Daily synchronising of your organisation's contact will occur overnight.
Sync Status
There are three different Sync Status'
In-Progress: Displayed when the syncing of contacts is still in progress. There is no action required by the user, they just need to wait until it updates to either a completed or failed status

Completed: Displayed when their has been a successful sync or syncs with individual contact data issue

Failed: Displayed when their is logical or timeout issues. In this case, the user needs to refresh the webpage to try sync again. If this does not work, then try Disconnecting from Mailchimp and then Create a connection to Mailchimp again
Last Synced
The Last Synced date/time, represents the last time a sync was successful. This means, Mailchimp contacts, subscription status and tags will be accurate as of this date/time