This article describes how to configure a season in the PlayHQ admin portal.
A competition must have at least one season. Participants register to a season and are allocated to their team(s). Teams are allocated to grades, a fixture created, and games played across the season.
Create a season
To create a season:
From the menu, click Competition Management and select the appropriate Competition tile.
Click the Add Season button.
Complete the form. Use the table below to learn about each field.
Click Create Season.
Season Details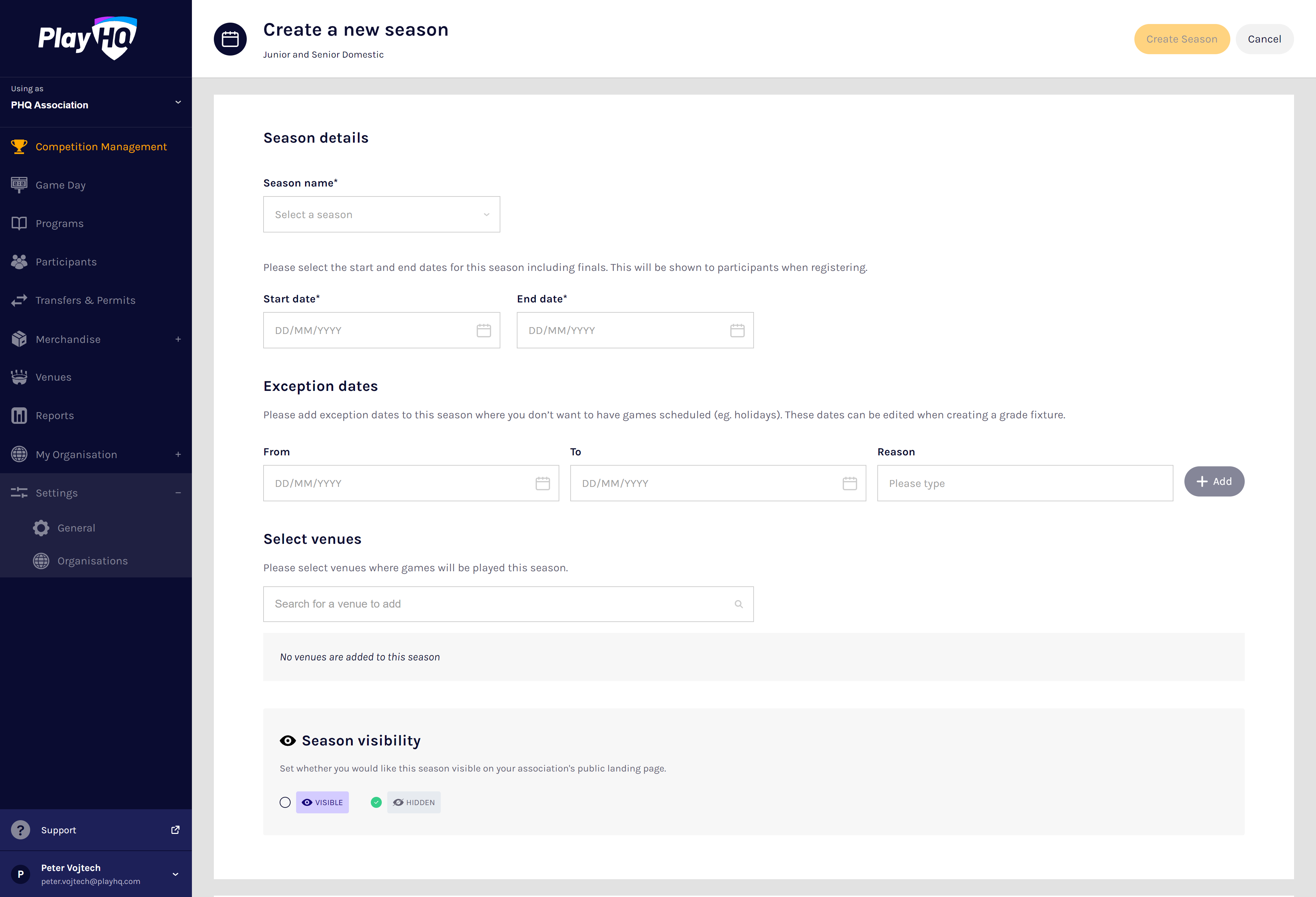 | Field | Description |
| --- | --- |
| Season Name | Season names are configured by the sports governing body. Select the appropriate season name from the dropdown list. In any given competition, only one season can be named the same. However, different competitions can each have a season named the same. For example, A Junior Domestic competition, and a Senior Domestic competition can each have a 'Summer 2020/21' season. |
| Season dates | Select the season Start and End dates. These dates will be visible to participants when they register. Note: The season start date is used in certain circumstances if a new Membership needs to be purchased by a player. Set the season start date as accurately as possible before participants begin to register. |
| Exception dates | Enter the From and To dates and provide a brief Reason for any exception dates that apply across grades in the season. The PlayHQ fixture generation engine will not schedule games to be played on any exception dates selected as applying for a given grade. |
| Select venues | Search for and select all venues that will be used for this season. Venues are configured by the sports governing body. The Selecting the venues used in a season article contains further instructions. |
| Season visibility | Choose whether the Season is visible or hidden on your organisation's PlayHQ public Discover site - https://www.playhq.com |
Season Age Settings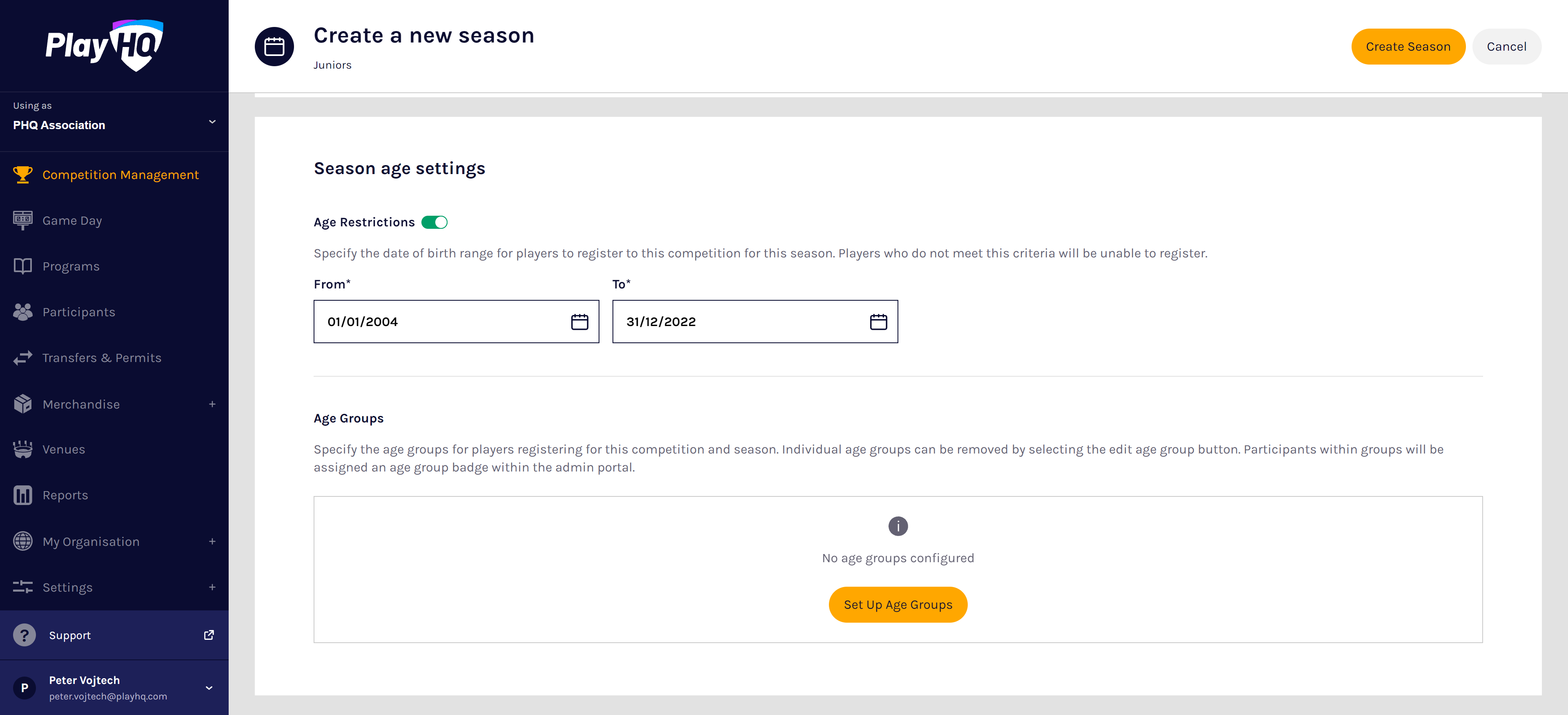 Field
Description
Age Restrictions

Age Restrictions can be set to limit season registrations to specific ages. This range is then displayed to participants in the competition and during registration. Administrators can turn restrictions on or off at any time.

Clubs participating in a competition season inherit the age restrictions configured by the association or admin body. Registration forms for Participant to Season, Participant to Team and Participant to Club Team will display the age range that has been set.

Age Groups (Coming Soon)

To manage registration and teams numbers more effectively, Association administrators can set up Age Groups to manage players that register for the season.
Administrators can filter age groups on the participant tab, participation report, and when allocating players to teams.
Age Groups allow clubs and associations to manage registration and team numbers more effectively and stop registrations for particular age groups to avoid accepting too many registrations.
Edit a season
You can update the season details at any time by selecting the relevant Competition tile and Season tile, and then select the Settings tab, and ensure you are viewing the General sub-tab.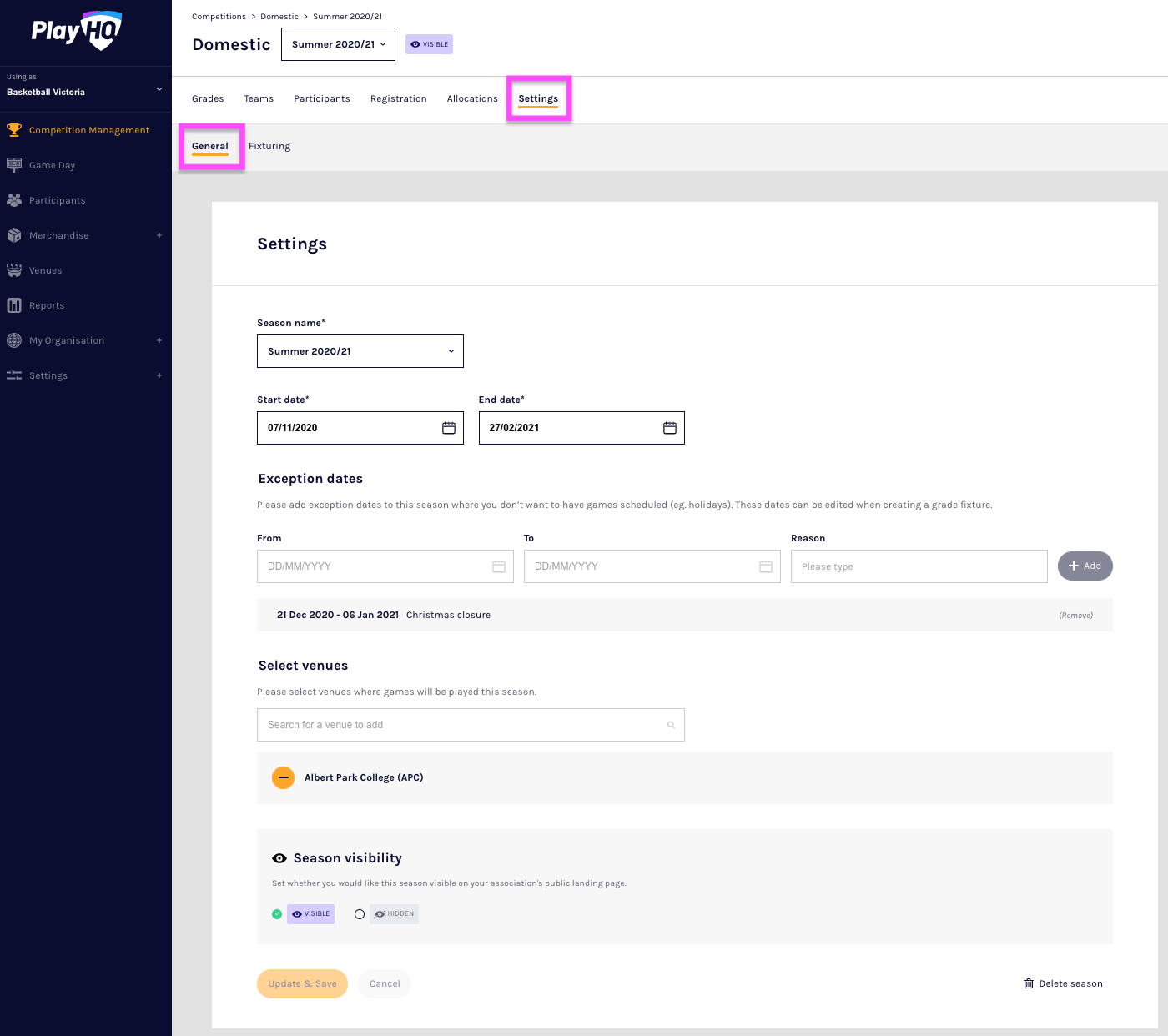 Update the information you would like to change, and then select Update & Save.
Delete a season
You can delete a season by selecting the relevant Competition tile and Season tile, and then selecting the Settings tab. From the General sub-tab, select Delete season.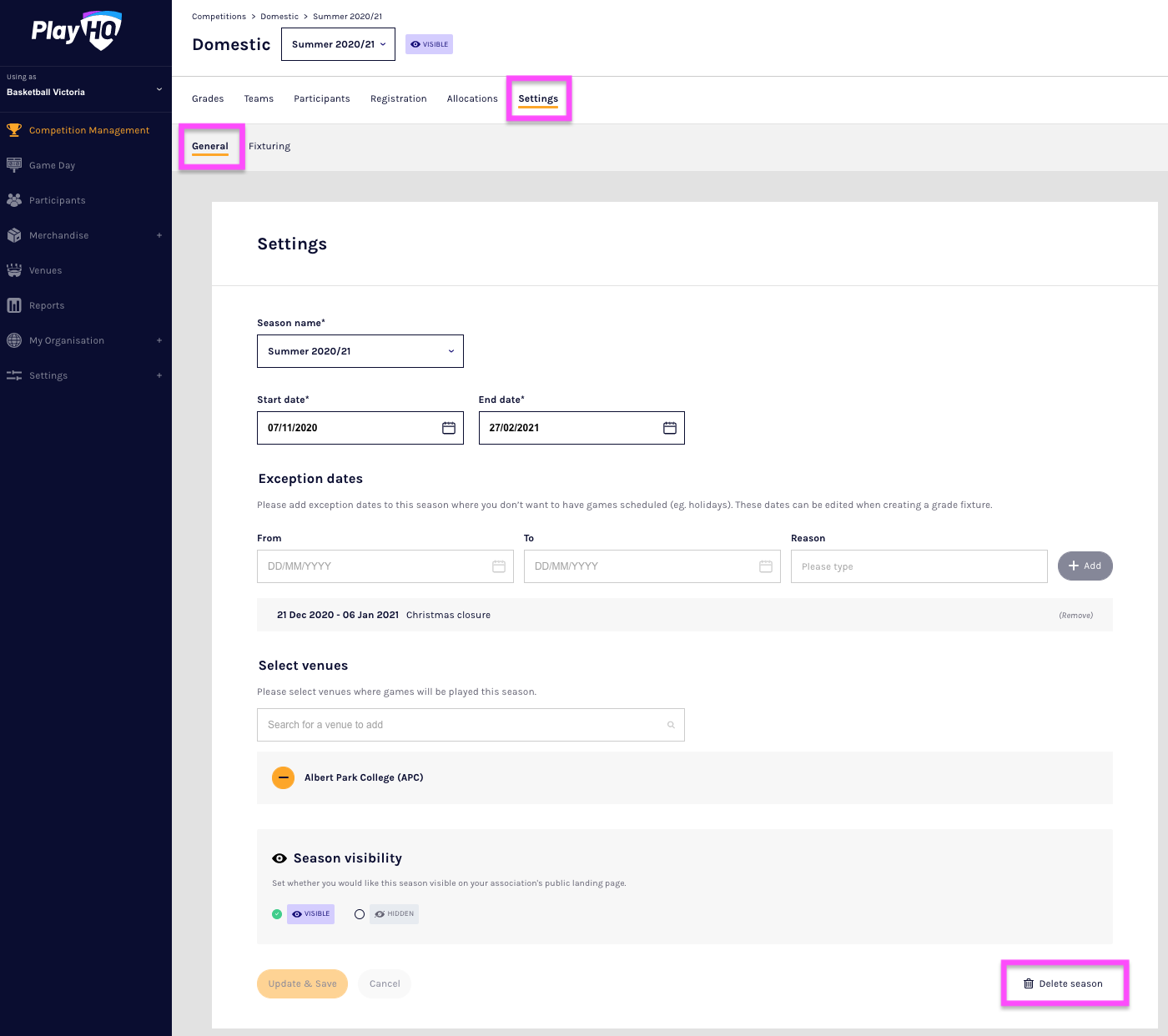 Note: Delete season will be disabled is the Season contains one or more grades, teams, and/or a registration form has been configured.
Confirm the deletion by clicking Delete season, or click Cancel to return to the previous page without deleting the season.