Once you've selected a Grade from a Season's list of Grades, you will view the Grade's Fixtures and Results displayed for the current round, by default. See the screen image and table below to understand the sections that appear: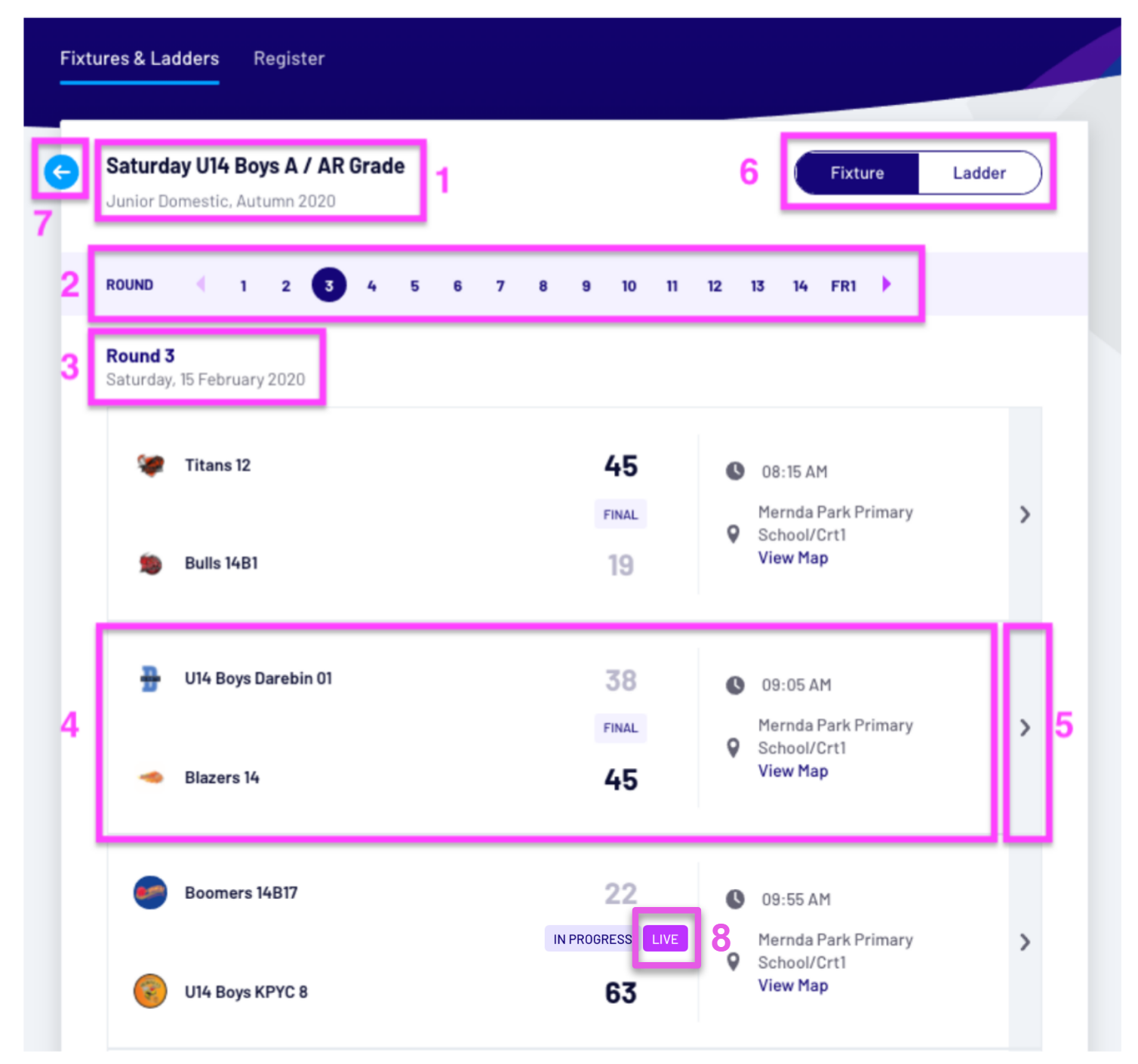 #
Section
Description
1
Grade name
The Grade, Competition, and Season names all display.
2
Round selector
The current Round is selected by default. You can choose other Rounds - including Finals Rounds - by clicking one of the available options.
3
Round details
The Round Name and Date display. If the round spans multiple dates, the dates will display, oldest to newest.
4
Game listing

The Round's Games will display from earliest to latest on the date they take place.

Within a game, the Home Team always appears on top and the Away Team always displays underneath.

If a game has had scores recorded, scores will display and the winning score will display in bold. A Team that forfeited or was disqualified will be indicated, as well.

The Game Status will display. An overview of the potential game statuses can be found here.

The Game Start Time displays. If no Game Start Time has been assigned, "TBC" will display.

The Venue and Playing surface (Court/Field) displays - you can select the View Map link to open Google Maps and view the location in a separate window. If no Venue/playing surface has been assigned, "TBC" will display.

Note: Teams that have a bye will display in a "Bye" section

5
Game Centre selector
Click on the arrowhead next to a game to view the game centre statistics, scores, fouls and player line-ups.
6
Fixture / Ladder selector
The Fixture option is selected by default. Select the Ladder option to view the Grade's Ladder.
7
Back to Grade's list

If you need to go back to the Season's list of Grades, you can select the back arrow, or click the back button on your browser.

8
Live Indicator

A Live badge will be displayed when a game has PlayHQ Live Scoring and the scoring device is online.
Note: An Association may choose to display a Grade with no Fixtures/Results available. If this happens, you will see the following message displayed: