The participant's list within a competition season displays all participants who have registered for the season - players, coaches, and team managers - listed alphabetically by their last name.
This article covers the basic elements of the participant list.
The 'Participants' tab within a Season
To view the list of participants registered for a competition season, access the relevant competition and select the season. Then select the Participants tab and use the screen image and table below to familiarise yourself with the options available: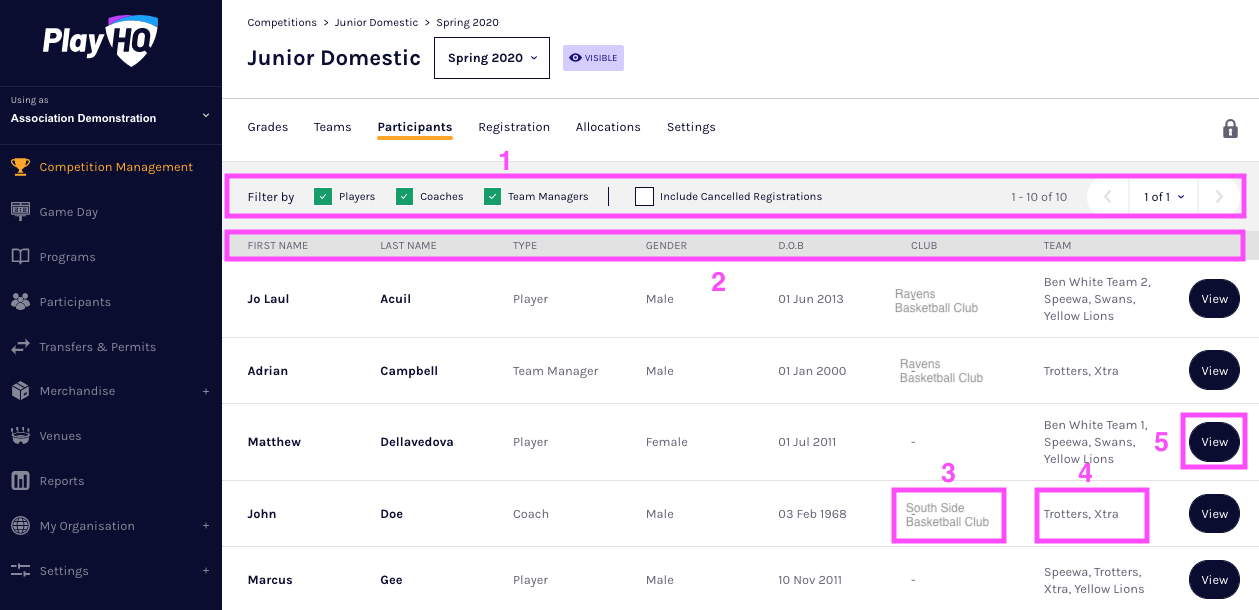 #
Section
Description

1

Role, registration status, and pagination filters

The Players, Coaches, and Team Managers' filters are all selected by default when viewing this page. You can tick and untick these options to find participants belonging to particular roles.

You can also choose to include participant details who have had their registration cancelled.

Additionally, the participant list is paginated with 100 participant details displaying each page.

2

Participant details

A participant's first name, last name, role, gender, date of birth, club name (blank if no club), and team/s are all display in a participant row.

3
Club name (blank if not registered to a club)
The club field will appear populated with a club name if a participant has registered to a Club. If the participant has registered to the Association, this will appear blank.

4

Team name/s

The team field will appear populated with a team name if a participant has been allocated to a team, otherwise, "Unallocated" will appear in red. If the participant is allocated to more than one team, then all team names appear.

5
View participant profile button

The 'View' button will open the participant's profile.