Making manual adjustments to your ladder throughout the season allows for curating teams in a competition as situations arise. This can be done using the Ladder Adjustments option on the grade's Ladder tab.
Ladder adjustments allow for ladder point adjustments per round, per team. To begin making an adjustment, proceed with the following instructions:
Select the Competition Management main menu item, and then the appropriate Competition and Season tile, and then view the Grades tab. Select the grade, then the Ladder tab, and finally the 'Ladder adjustments' button: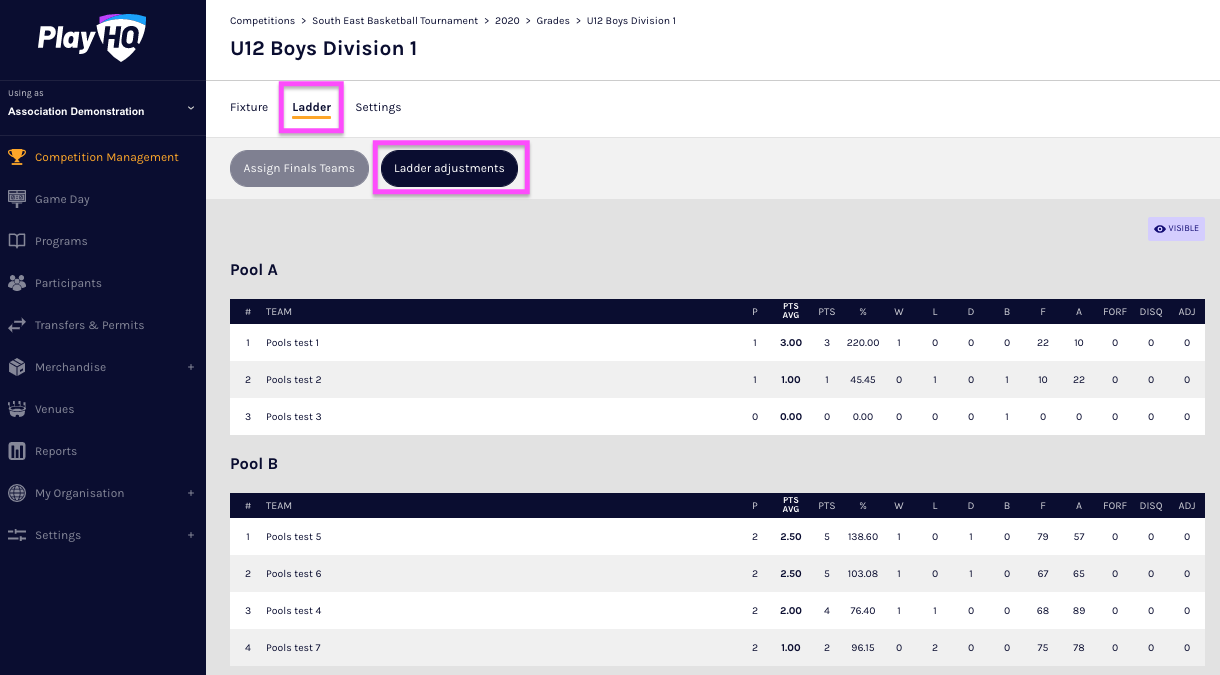 You will arrive on the Ladder adjustments page and you can add an adjustment using the screen image and table below for assistance:

| | |
| --- | --- |
| Field | Description |
| Pool | Displays only if the grade contains pools (Tournament type competitions only). |
| Round | This field specifies the round that the ladder point adjustment will be applied to. |
| Team | This field specifies which team will have their ladder points adjusted. |
| Type | This field specifies which ladder column should be adjusted. Types include Ladder Points, For, Against, Games Played, Wins, Losses and Draws. |
| Amount | Enter a negative or positive number. |
| Reason for points adjustment | This field contains the reasoning behind the adjustment. These details are not published on the PlayHQ Discover public site. Only administrators will be able to see the reason. |
| + Add | Once you've completed the fields above, select "+ Add" button to submit the adjustment. |
You'll be able to see a list of your adjustments saved beneath the above entry fields. Only the ladder (championship) points adjustment value entered is reflected on the ladder display.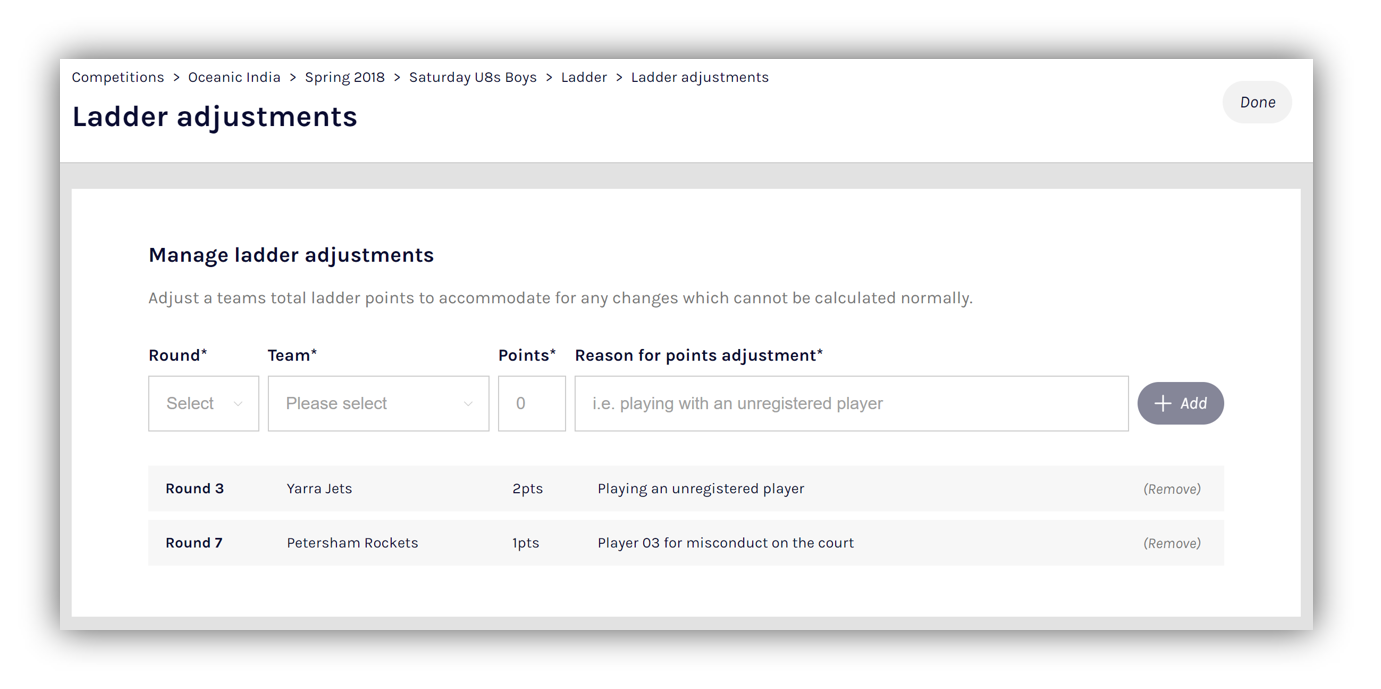 To undo changes, simply select Remove to delete the ladder adjustment. You'll then receive a confirmation pop-up message, select Confirm to commit the removal.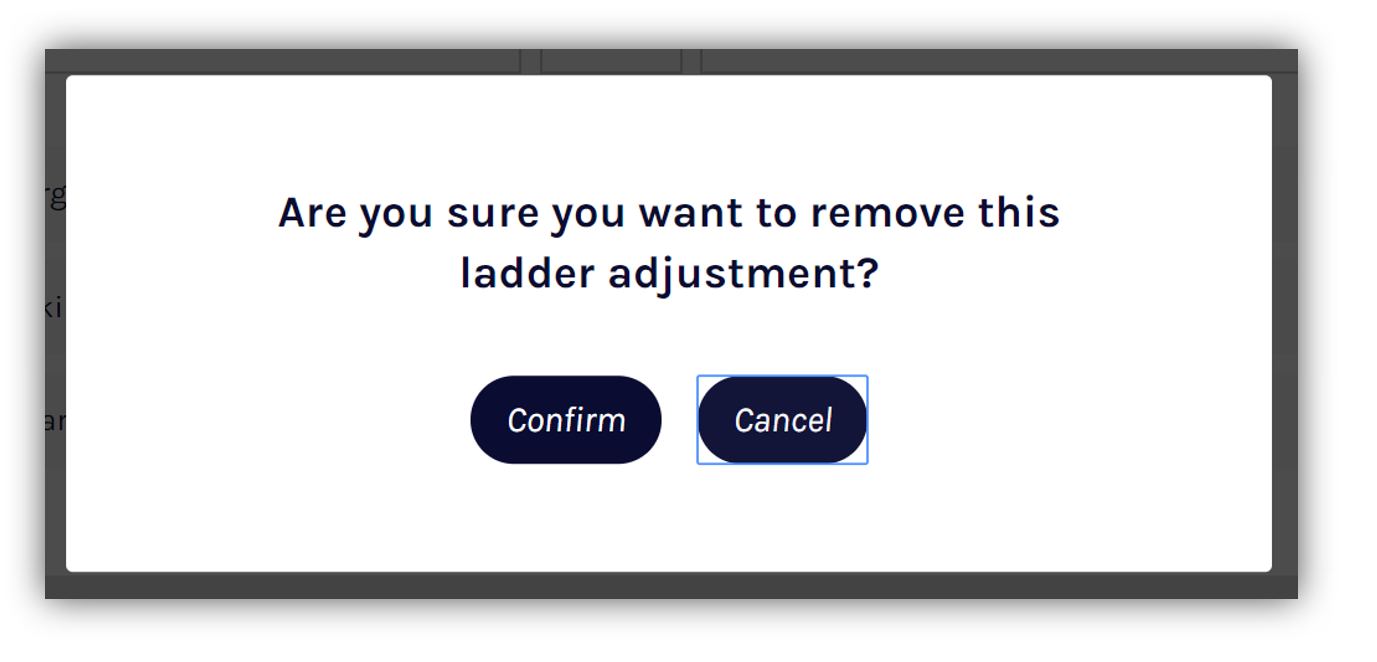 You'll then be notified of the removal success.