Many State and Territory governments offer a 'sports voucher' program designed to increase the number of children playing organised sport by reducing cost as a barrier to participation. Each organisation that wishes to be involved must be an approved activity provider and children must apply for their unique voucher code that can then be applied when registering to approved organisations to reduce their registration fee. The organisation then receives the corresponding funds from the State/Territory Government.
Eligibility, processes, and discounts vary for each State/Territory. Further information can be found via links to the individual government voucher program in the table below:
| | |
| --- | --- |
| State or Territory | Government Voucher Program |
| Northern Territory | Sport Voucher Scheme |
| South Australia | Sports Vouchers |
| Western Australia | KidSport |
| Queensland | FairPlay Voucher |
| New South Wales/ACT | Active Kids |
| Tasmania | Ticket To Play |
| Victoria | No program currently available. *The Victorian Government has recently announced that a Victorian sports voucher program will be available from 2021. PlayHQ will activate this program as soon as possible. |
Key information
Multiple organisations in a sport's PlayHQ hierarchy can enable a State/Territory government voucher. The government voucher will be applied firstly against the organisation registration fee that the participant is registering to (only if enabled by the organisation) and if there are surplus funds available then the voucher will be applied against the fee of the next organisation in the hierarchy (again, only if the government voucher has been enabled by that organisation) ie. firstly applied to a clubs registration fee, then to an association fee, then the sport's admin body and/or national body fees.
Once applied, the government voucher will appear on:

the registrant's invoice
the transaction report

NSW Active Kids Vouchers are integrated with the PlayHQ platform and therefore require a POSID to be created by the organisations governing body.
PlayHQ vouchers will be applied to the registration fees first and then the government sporting voucher will be applied in order to maximise the saving for the registrant. Saving is maximised because the government voucher can apply across multiple organisations (if enabled) whereas the PlayHQ voucher is limited to the organisation that supplied the discount voucher.
Managing Government Vouchers for your organisation
Before you begin enabling a government voucher, ensure your organisation is an approved activity provider as required by your state or territory.
To start using Government vouchers, go to Settings, and then the General section of the PlayHQ Admin Portal.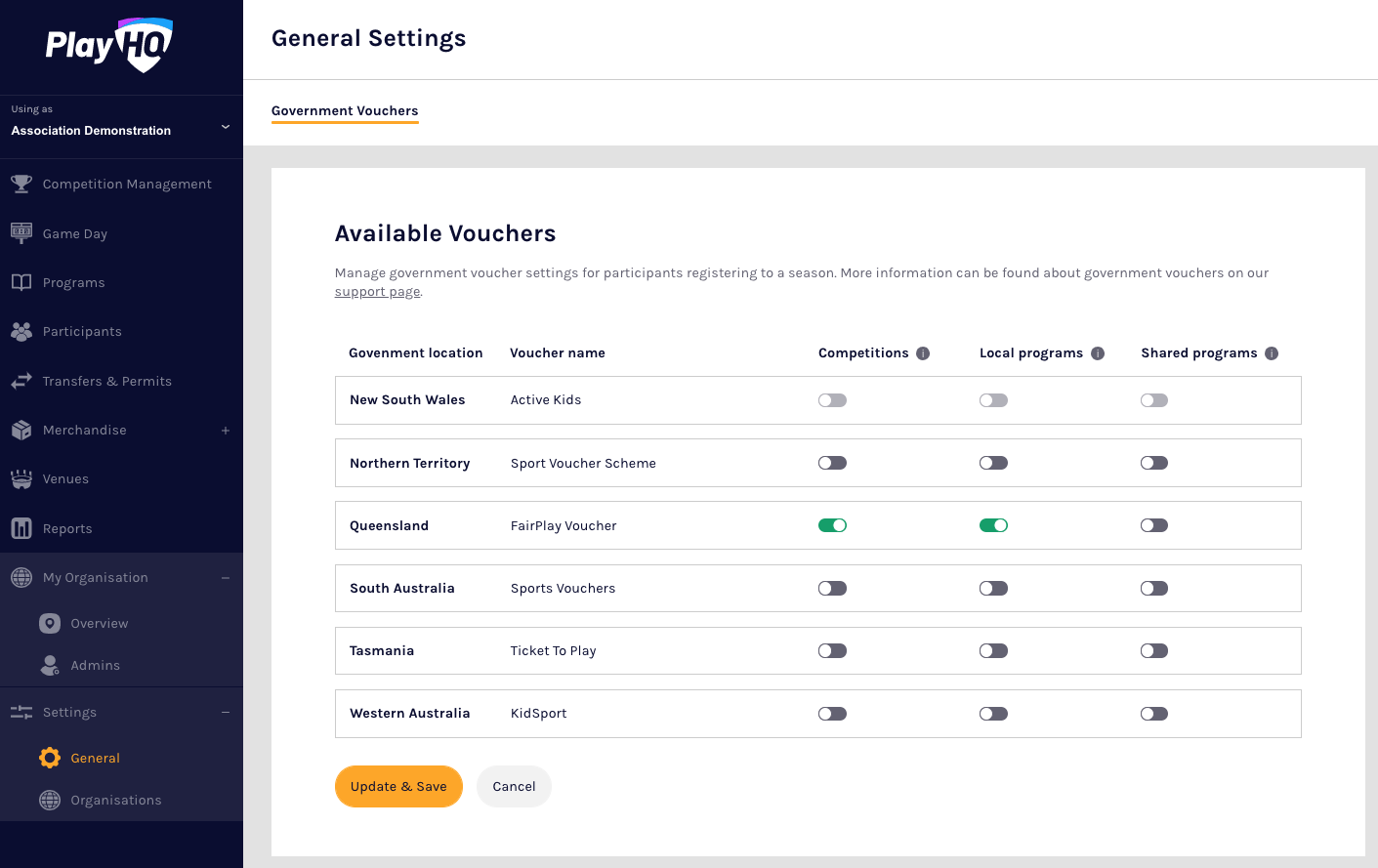 Note: Vouchers are turned off by default. Activate only if your organisation is approved by the relevant State/Territory organisation that manages the government voucher program.
When a government voucher has been toggled ON or OFF and the ''Update & Save'' button selected, a message will appear to confirm. Once a government voucher is enabled, it can be applied against your organisation's registration fees when a participant is registering. Turning the voucher "OFF" will deactivate the ability for a participant to redeem a government sporting voucher at your organisation. You can specify if a government voucher can be used for registration to your Competitions, and/or Local Programs, and Shared Programs.
Government voucher integration (NSW only)
NSW Active Kids vouchers are integrated with the PlayHQ platform so that the details of vouchers are validated in real-time. NSW Active Kids vouchers are redeemed and paid out by the NSW Government to an organisation rather than administrators manually requesting reimbursement. In order for the NSW Active Kids voucher to be activated, a POSID must be entered by the sport's governing body on your organisation's profile. Please contact your sport's administrative body to arrange.
Voucher Reporting
Vouchers that have been applied by registrants will appear in the Transaction Report and the Government Vouchers Report. Information from the Government Voucher Report can be used to redeem Government Vouchers via the appropriate Government portal.
During the Payment & Summary step of the registration process, a participant selects that they have a government voucher: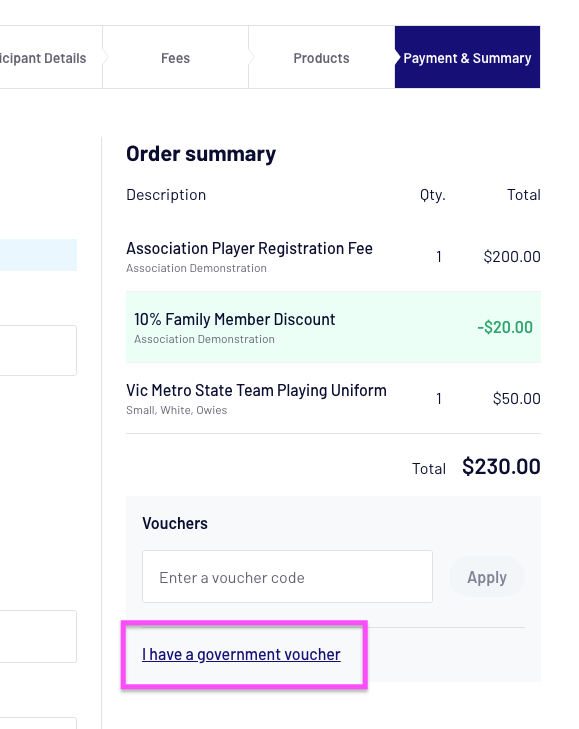 and then selects and enters the details of the available government voucher. The appropriate discount is then applied to the fees payable: