Once you've generated a fixture for a grade, it will be available for you to view within the grade. This article provides you with an overview of a grade's regular season fixture page. For more information on a finals fixture, view the viewing a grade's finals fixture article.
Viewing a grade's regular season fixture
To view a fixture:
From the menu, click Competition Management
Select a Season
Select a Grade
Click the View Fixture button.

The Fixture will display with the Regular Season tab selected. Learn more about each area below.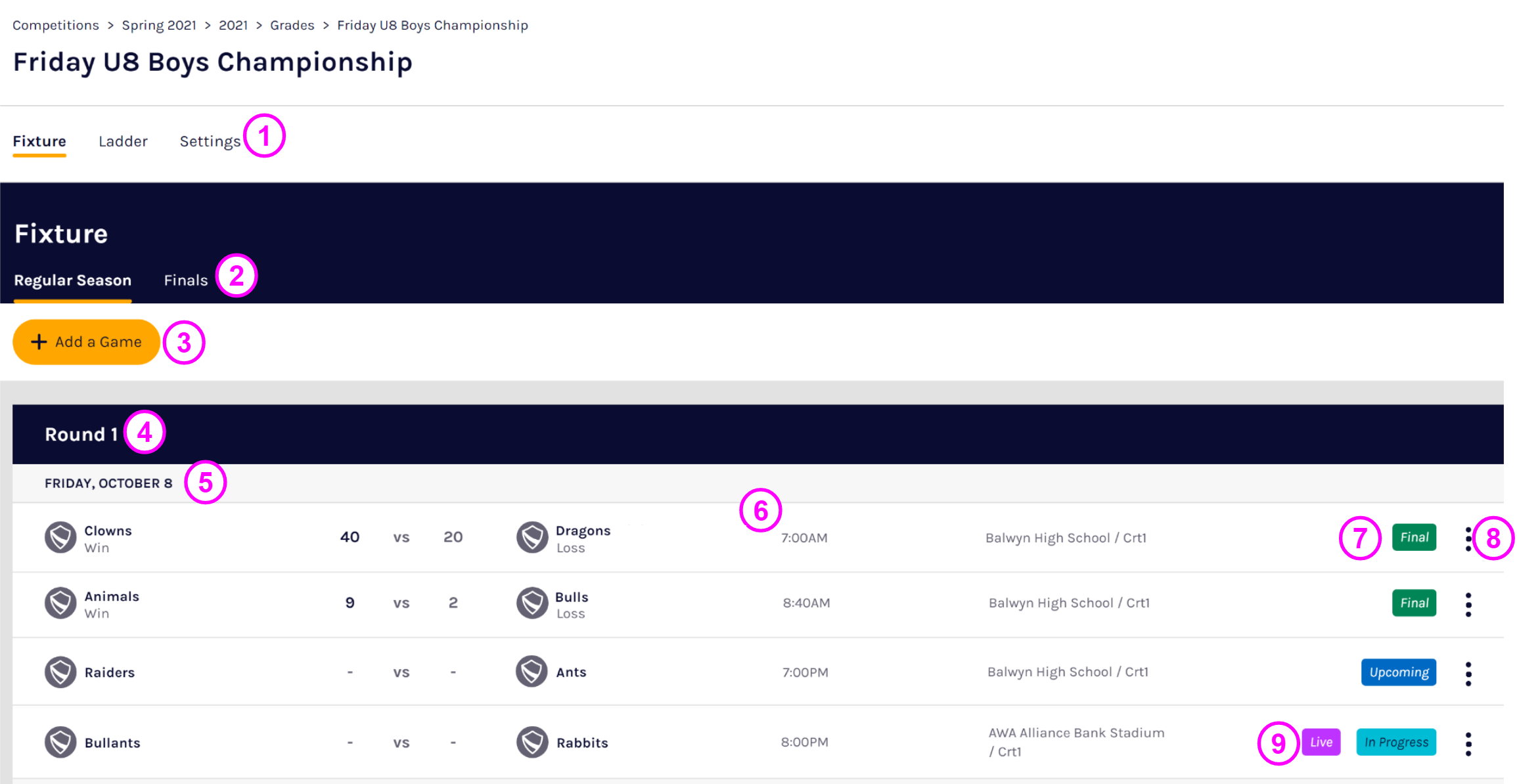 #
Section
Description

1

Fixtures, Ladders, and Settings tabs
The fixtures, ladder and settings tabs assist with navigation between these elements in the selected grade.
2
Regular Season and Finals fixture sub-tabs
The regular season and finals fixture sub-tabs navigate between the regular season and finals (if available) fixture.
3
Add a Game
The 'Add a game' button allows you to add regular season games to your fixture. Learn how to do this in the add a regular season game to your grade's fixture article. In a similar fashion, you can add a game to the finals fixture.
4
Round details
The round banner groups the date(s) and games related to the round.
5
Date
The date or dates that games are scheduled for/took place on will appear under date groupings within a round.
6
Game details
Each game details row includes the following:


The Home and Away teams
Each team's outcome (e.g. Win, Loss, Draw, Forfeit, Disqualification) - if the game is finalised
Team scores
Time of the game – this could be TBC
Venue and playing surface (court/field) – this could be TBC
Game status – see below
Game options - see below

7
Game status
The game status indicates the current state of a game. One of the following states may apply to a game at any given time:


Upcoming

- The game is in the future and has not had scores entered/been finalised.

In Progress

- The game is within the scheduled game time and does not have a result. Or the game is currently being Live Scored by an online electronic scoring device.

Pending

- The game end time has passed and scores have not been entered. The game has not been finalised.

Final

- The game has been finalised – either via scores being entered or from marking a team(s) as forfeited/disqualified.

Abandoned

- The game has been abandoned.

Cancelled

- The game has been cancelled.

Learn more about scoring and updating games in the Game Day details and scoring section.
8
Game options

When selecting the ellipses, the following options are displayed:


Select the links below to learn more about each option:

9
Game Indicators

A Live badge will be displayed when a game has PlayHQ Live Scoring and the scoring device is online.