Applicable to: Participants
Application(s):

Participant Portal

> Registration


This article will cover the following:
What is profile claiming and when does it occur
How to claim a matching profile
Requesting support to claim a matching profile
Related articles:
What is profile claiming?
Participants registering to PlayHQ have the opportunity to claim and merge duplicate profiles that already exist in PlayHQ.
Reasons for duplicate profile matches include:
Creating new accounts when one already exists.
Multiple account holders (e.g. parents) registering the same dependant (e.g. children) to their accounts.
Dependants creating a personal account and profile (e.g. children turning 18 years old).
Participant profiles already existing that were imported from legacy platforms.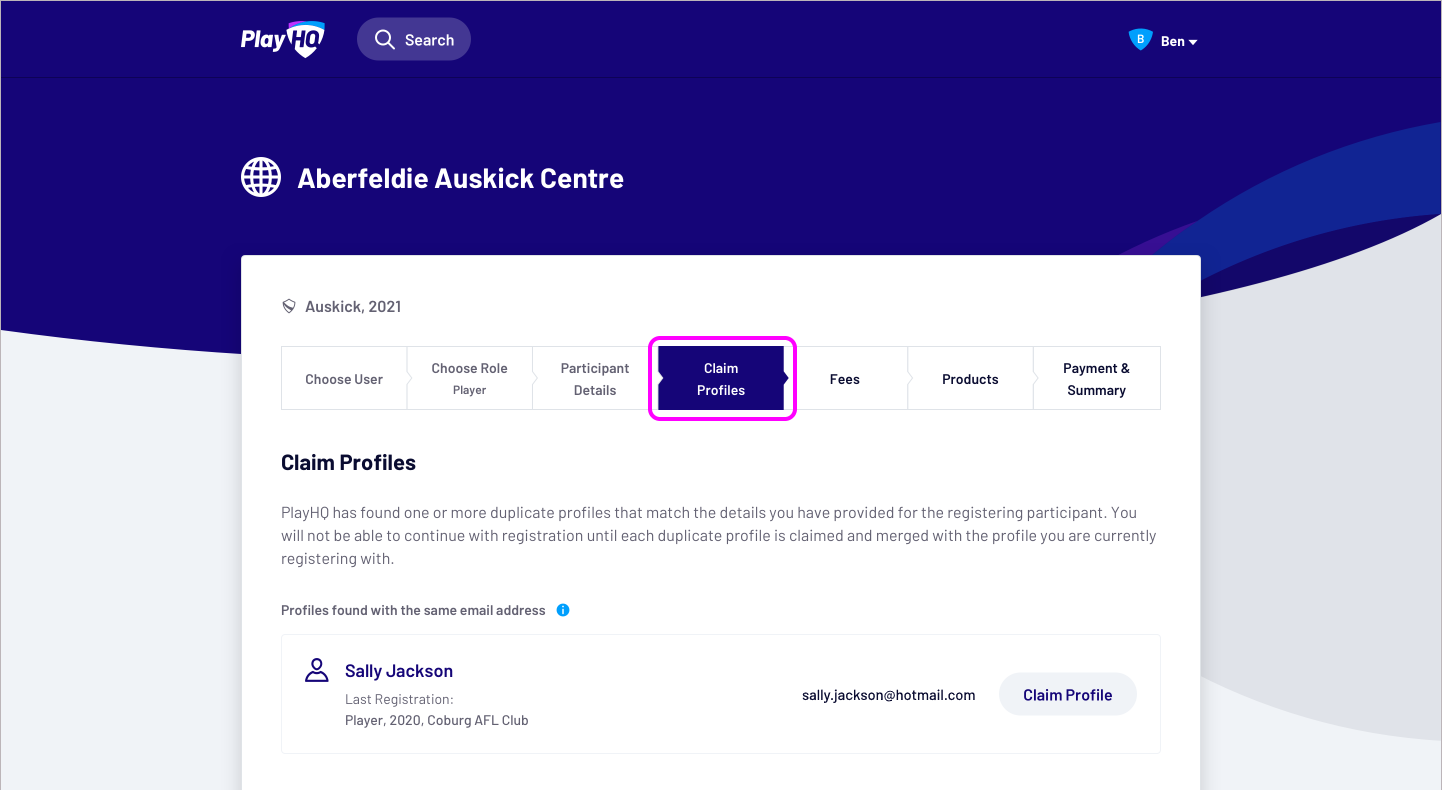 Profile matching happens once the registrant completes the Participant Details section. PlayHQ looks for any matching profiles within the sporting code that applies to the registration.
Depending on the sporting code, participants may need to claim all duplicate profiles to continue the registration.
Duplicate profile criteria
PlayHQ searches for duplicate profiles that match a combination of:
First name
Last name
Gender
Date of Birth
Duplicate profiles will not be visible if:
The profile to claim is a primary profile, and the profile being registered is a dependant.
The profile to claim has had admin access at any time.
Claiming a Profile
There are three ways a duplicate profile can appear.
1. Profiles with the same email address
If the matching profile has the same email address, the participant can claim it instantly.
Click the Claim Profile button and wait for confirmation.

2. Profiles attached to someone else's account or unverified email addresses
If the matching profile is attached to someone else's account or has an unverified email address, it can be claimed in a few steps.

Click the Verify Email button. PlayHQ will send a verification email to the email address attached to the duplicate profile.


An email with a verification code is sent to the account holder of the profile to be claimed. The account holder can provide the verification code to the registering account holder if they approve merging it into the newly registered profile.

Enter the Verification Code and click Claim Profile.
The profile will be claimed if the verification code is correct.


Contact Support if you do not have access to the verification code (e.g. no longer have access to this email address).
3. Profiles that cannot be actioned
Specific matching profiles cannot be automatically merged. Click Contact Support for assistance.

Claimed Profiles
Once a profile is claimed, PlayHQ will merge any registration history (across all sports), player stats and transfer history to the profile being registered.
Support to claim a PlayHQ profile
If you are unable to verify the matching profile during the registration process, for instance it is attached to someone else's account or has an unverified email address or one you can no longer access, please click here to contact your sport's support team.
When sending a support request, please include the details below:


#
Information
Additional Information
1
What is your full name?

2
Are you registering yourself or a dependant?
Dependants may be children. If changing details for a dependant, please provide their name along with your name.
3
What sport are you attempting to register for?
4
What is the name of the organisation(s) (such as league, association or club) that you are attempting to register for?
5
What is the competition or program you are registering for?
6
What is the email address in your profile?
7
What is the last known registration on the matching profile, and when were they registered?

Example

: Jenna last registered in December 2023 to the Blary Tigers in PJFL for the Spring 2024 season.
8
Additional information from the matched profile.

Example 1: I cannot verify a profile match because I no longer have access to the email address in the matched profile. (Please include the email address in the support request)

Example 2: I am unable to continue because PlayHQ has matched me to a profile that isn't mine. (Please include details of the matched profile)