Applicable to: Association and Club Administrators, Participants
Application(s):

Admin Portal

> Competition Management > Competition > Settings > Grade Defaults

This article will cover the following:
What is a game permit.
Game permit settings.
Game permit submission and approval.
Related articles:
What is a game permit?
For tenants that have enabled this functionality, the game permits feature allows a player that has not registered to your club in a competition season, to play a single game for your club in that competition season.
Who is eligible for a game permit?
A number of eligibility checks are made before a game permit request can be approved. These include:
Grade setting:
Game Permit grade setting is enabled for grade that game belongs to (see Game permit setting section below)
Registration criteria:
Player wants to participate in a club team (not an association team)

Player does not have a life ban or suspension

Player has not already registered to the same club and competition/season

Player has not already permitted to the club or competition/season

Finals eligibility, player points and team player limit rules are not breached
Game permit setting
Association Admins:
When creating or editing a grade or competition, an association full access admin will see a grade default setting called Game Permits. It is enabled by default.

Club Admins:
If this setting is enabled, Club Admins will be able to add game permit players via the non-team player page.
If disabled, Club Admins will view an inactive Game Permit button with a hover message stating "The competition administrator has disabled game permits from being used in this grade." Example below.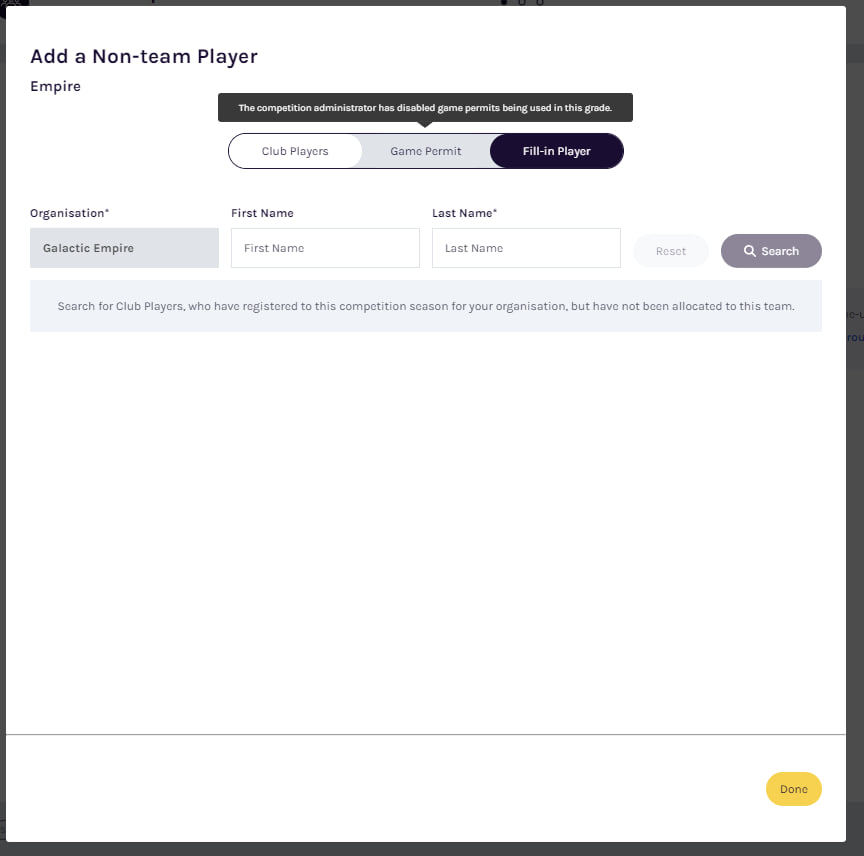 Who submits a game permit?
Game permits are initiated by the destination club in the admin portal. The destination club is the club which the player has not registered to but wishes to play for.
Who approves a game permit?
There is no manual approval required for a game permit. When the game permit request is submitted, PlayHQ will automatically check the eligibility criteria above, if all criteria is met, a game permit will be automatically created and approved.
What happens when a game permit is created?
The player will be automatically added to the destination clubs team line up. They will easily identifiable with the "GP" indicator next to their name.

A player that participates in a game on a game permit is not visible in the season participant list for the organisation they participate for, nor are they added as a permanent team member for the team they participated for. They simply participate in the game and have no further involvement in the organisation they participated for.
The player will show up in the Games Played report, their appearance type will be listed as "Game Permit".